French Bread
Saturdays are my bread baking days. Whenever I'm cleaning, or doing laundry, or another chore I don't enjoy, it's nice to simultaneously have the wonderful yeasty smell of rising and baking bread in the kitchen. It cheers me up. I also love to try new bread recipes. This is a french bread recipe I found on
tasty kitchen
. I originally planned to try King Arthur Flour's french bread recipe, but this one just seemed so much simpler that it won out. And it turned out great! So soft on the inside, with a perfectly brown crust. It was perfect to serve with the hamburger soup we had last weekend. I actually liked it so much I made it again this past weekend and served it with enchilada soup (recipe coming soon – it's a good one!) Mike hasn't told me his rating yet, but judging by the amount of bread he's eaten over the past week, I'm pretty sure he liked it.

*note on 1/16/10: I've updated the pictures on this post, and I had to write an update to say that I make this bread a lot. At least once a month. This has quickly become my go-to bread recipe because it's so easy and so good. If you're looking for a bread recipe with minimal mess, and that consistenly comes out well, try this one. I definitely recommend it.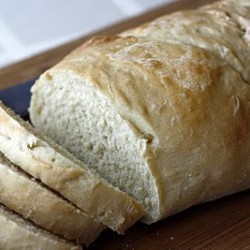 French Bread
Ingredients:
2-¼ cups Warm Water
2 Tablespoons Sugar
4-½ teaspoons Yeast
1 Tablespoon Salt
2 Tablespoons Vegetable Oil
6 cups Flour
Directions:
In a large mixer, combine water and sugar and yeast. Allow it to soften/proof for about 5 minutes. Add salt, oil, and half the flour; mix well. Add remaining flour and mix well (I used the dough hook on my kitchenaid). Let it sit for about 10 minutes. Stir the dough down and allow to rest 10 more minutes. Repeat until dough has been stirred/rested 5 times.
Turn dough out onto a floured surface. Knead lightly 2 or 3 times. Divide dough in half. Form each half into a long loaf and place on baking sheet sprayed with Pam. Cover and allow it to rise 30-60 minutes. With a sharp knife, cut 3 gashes at angle on top of dough. Spray top with water. Bake 400 degrees for 30 min, checking at about 20 minutes.