Pumpkin Cinnamon Rolls
These soft pumpkin cinnamon rolls are filled with a fall flavored cinnamon spice mixture and topped with a vanilla glaze!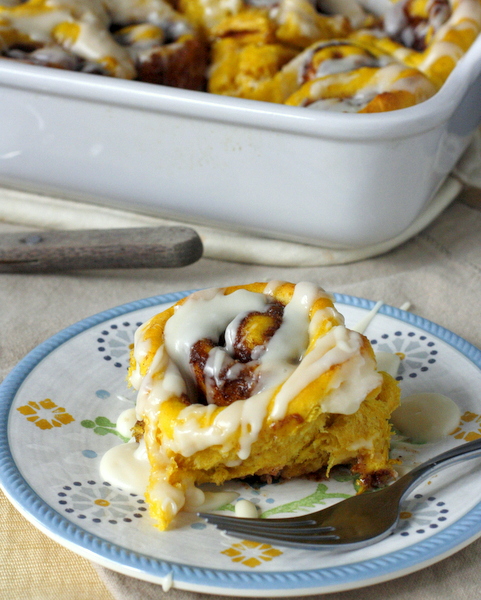 How has it taken me so long to make pumpkin cinnamon rolls? We love pretty much anything made with pumpkin, and of course we love cinnamon rolls, so it was really just a matter of time before I combined them. 🙂
These pumpkin cinnamon rolls ridiculously good. They are soft and fluffy and gooey and delicious, just like traditional cinnamon rolls!
Unlike traditional cinnamon rolls, however, they are made with pumpkin, which makes them extra soft and delicious. And they have lots of extra fall spices (like nutmeg and cloves!) all rolled up in their delicious gooey centers. 🙂
Then they are topped with a sweet and creamy cinnamon icing! Even just typing up this blog post makes me want to eat another one, that's how good they are. 🙂
Long story short, if you like pumpkin and you like cinnamon rolls you are sure to LOVE these. They are the perfect fall breakfast treat!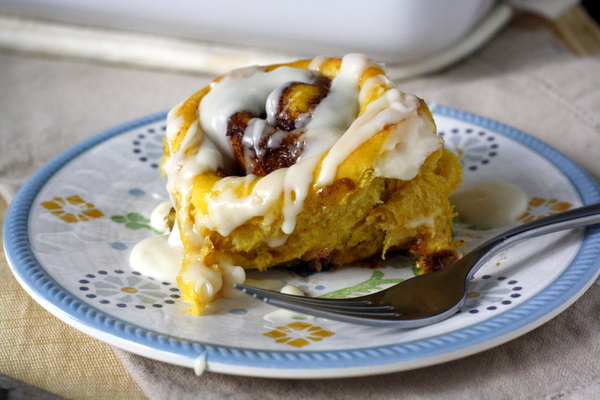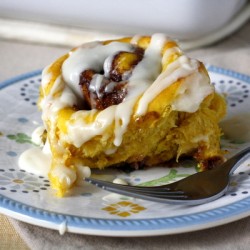 Pumpkin Cinnamon Rolls
Yield: Makes 11 rolls
Prep Time: 35 minutes, plus 2 hours rising time
Cook Time: 25 minutes
Total Time: 3 hours
These soft pumpkin cinnamon rolls are filled with a fall flavored cinnamon spice mixture and topped with a vanilla glaze!
Ingredients:
Rolls:
1/3 cup milk
2 and 1/4 teaspoons active dry yeast
2 Tablespoons unsalted butter, melted and slightly cooled
1/2 cup 100% pure pumpkin
2 Tablespoons packed light brown sugar
1/4 teaspoon nutmeg
1/2 teaspoon salt
1 large egg, beaten
2 and 1/2 cups  bread flour, divided
Filling:
1/2 cup packed light brown sugar
1 Tablespoon ground cinnamon
1/2 teaspoon ground nutmeg
1/2 teaspoon ground cloves
1/4 teaspoon ground allspice
3 Tablespoons unsalted butter, melted
Glaze:
2 Tbsp butter
1/2 tsp vanilla
1 Tbsp milk
cinnamon, to taste
powdered sugar
Directions:
Make the dough: In a large mixing bowl, combine milk and yeast. Let sit for 5 minutes, or until yeast is puffy. Add in the butter,pumpkin puree, brown sugar, nutmeg, salt, and egg. Using your electric mixer with paddle attachment, beat on medium speed until combined. Turn the mixer to low speed and add 1 cup of flour. Mix for 5 minutes, scraping down the sides of the bowl frequently.  Add 1 and 1/4 cups more flour and beat for 1 more minute. The dough will be very soft.
Transfer dough to a lightly greased bowl and let rise until doubled in size, about 1 hour.
Punch down risen dough and turn it out onto a lightly floured surface. Knead the dough a few times to form a smooth dough.  You may need to add up to 1/4 cup more flour to make it easy to handle.  Roll the dough out into a 16x10 inch rectangle.
Make the filling: Combine the brown sugar, cinnamon, nutmeg, cloves, and allspice into a small bowl.  Spread the top with melted butter and then sprinkle evenly with brown sugar mixture. Roll the dough up into a large log and cut into 1-inch rolls. Arrange rolls into 9x9, 9x13 or 11x7 inch pan  (depending on how many you have and how close you want them) that has been lightly sprayed with nonstick spray. Cover and let rise 1 hour, or until doubled in size.
Preheat oven to 350F degrees. Bake the rolls for 22-28 minutes, covering with aluminum foil at the 15 minute mark to prevent over-browning.
Make the icing: melt the butter in a small bowl. Add the vanilla, milk and cinnamon. Stir in enough powdered sugar to make icing the consistency of honey. Spoon icing over warm rolls. Serve immediately.