Gingerbread Pancakes
I just realized I've posted 3 breakfast recipes in a row. I must have Christmas brunch on my mind! And since I'm thinking of it, if you're looking for a delicious recipe for Christmas morning, you should definitely keep this one in mind. It combines classic pancakes with traditional gingerbread flavor -perfect for Christmas! Mike and I both really liked these. I'm more of a gingerbread fan than he is, but he voted them a 3.5 and ate enough of them to convince me that he liked them. They're light and fluffy with a nice subtle flavor. I've already made them twice, and I'm wondering if I can fit them in again before Christmas. 🙂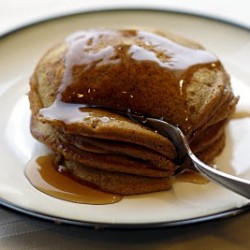 Gingerbread Pancakes
Ingredients:
1-½ cup All-purpose Flour
½ cups Packed Dark Brown Sugar
½ Tablespoons Baking Powder
¾ teaspoons Baking Soda
½ teaspoons Salt
½ teaspoons Ground Cinnamon
½ teaspoons Ground Ginger
⅛ teaspoons Ground Nutmeg
¼ teaspoons Ground Cloves
½ cups Water
½ cups Brewed Coffee, Room Temperature Or Cold
2 whole Large Eggs
¼ cups (1/2 Stick) Melted, Cooled Butter
⅛ cups Freshly Squeezed Lemon Juice
Directions:
Whisk together flour, brown sugar, baking powder, baking soda, salt, and spices in a bowl. Whisk together water, coffee, eggs, butter, and lemon juice in a large bowl. Add flour mixture and whisk until just combined. Let stand 15 minutes (batter will thicken).
Brush a griddle or 12-inch non-stick skillet with oil and butter, heat over moderate heat until hot but not smoking.
Working in batches of 3 or 4, pour 1/4 cup batter per pancake onto hot griddle and cook until bubbles appear on surface and undersides are lightly browned, 1 to 2 minutes. Flip pancakes with a spatula and cook until cooked through and edges are lightly browned, 1 to 2 minutes more. Transfer to a platter and loosely cover with foil to keep warm. Brush griddle with oil between batches.