Brown Sugar Baked Brie
Pillsbury and MyBlogSpark provided me with a couple packages of crescent rolls and asked me to try out one of the appetizer recipes on the Pillbsury site. When I saw that Baked Brie was one of my choices, I knew that was the one I had to try. I've been wanting to make baked brie ever since I had it for the first time last winter. I was asked to put my own personal spin on the recipe, so I followed the advice of some of the recipe commenters, and added in some brown sugar. The result was a warm, cheesy, sugary, and absolutely delicious appetizer. I previously had baked brie with puff pastry, but I think I like it with crescent rolls even better. It was warm, but still firm so you could cut a piece and pick it up and eat it. I served it with apple slices, and the two complemented each other perfectly.
Through Pillsbury and MyBlogSpark, I'm giving away a prize pack consisting of 2 coupons for Pillsbury refrigerated crescent dough and a 3 piece holiday platter set to serve your new creations to your guests. For a chance to win, leave a comment below with your favorite way to use crescent rolls. The winner will be announced on Thursday, 1/14. Contest is over, thanks for all your comments! I used a random number generator and the winner is Nazarina A from giddy gastronome! Congratulations Nazarina, please send me your address and I"ll get the package sent out to you 🙂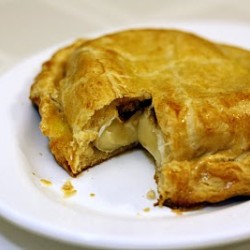 Brown Sugar Baked Brie
Ingredients:
1 can (8 oz) Pillsbury crescent rolls
1 round (8 oz) Brie cheese
brown sugar
1 egg, beaten
Directions:
Heat oven to 350°F. Unroll dough; separate crosswise into 2 sections. Pat dough and firmly press perforations to seal, forming 2 squares. Place 1 square on ungreased cookie sheet. Place cheese on center of dough. Sprinkle brown sugar on top of cheese. Place remaining square on top of cheese round. Press dough evenly around cheese. Trim edges. Fold bottom edges over top edges and press to seal completely. Brush with beaten egg. Bake 20 to 24 minutes or until golden brown. Cool 15 minutes. Serve warm.