Honey Whole Wheat Bread
I love to make bread. Something about it just seems so rustic and charming. I like kneading the dough (although I think I prefer watching my KitchenAid do it), I like watching the yeast bubble and foam, I like watching the bread rise, and more than anything I like cutting into a fresh loaf of bread and devouring a still-warm slice with plenty of butter. That last one is Mike's favorite as well.
I usually bake a loaf or two of bread every weekend – either to eat with soup, to turn into garlic bread, or just to have to make grilled cheese sandwiches. I don't normally make "sandwich" bread, but I think that's about to change. I'm on a quest to make sure all our meals (including lunch) are as nutritious as possible. Mike takes a peanut butter and jelly sandwich every single day, and I've decided to stop buying those cheap loaves of bread with slices so thin that the jelly soaks through. (I can hear him cheering from where I'm typing this…) I also don't want to start spending $4 on a loaf of "healthy" bread. The other option? Make my own.
And that's where this recipe for honey whole wheat bread fits in. It comes from the Betty Crocker website via my friend Katie (source of a quite a few other good recipes!) It's sturdy enough for sandwiches, but light enough so that it doesn't feel dense. It has a great honey flavor, but has a good amount of whole wheat flour to keep it healthy. We've eaten this bread plain with butter, but I actually prefer it other ways – grilled cheese, french toast, and of course sandwiches. I always slice it and freeze it the same day I make it, because it seems to get stale pretty quickly. But it's no problem to pull out a few slices at a time for lunch or dinner. If you're looking for a good alternative to store-bought bread, give this recipe a try.
*Update: Mike just sent me the following (unsolicited) comments: "Have I mentioned that I absolutely love that homemade bread you made for PBJ sandwiches? It is the perfect bread type. Way better than store bought." A great recommendation if you ask me 🙂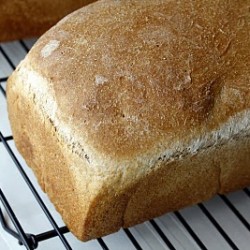 Honey Whole Wheat Bread
Ingredients:
2 packages regular active dry yeast
1/4 cup warm water (105°F to 115°F)
1/2 cup honey
1/4 cup butter or margarine, softened
3 teaspoons salt
2 1/2 cups very warm water (120°F to 130°F)
4 1/2 cups whole wheat flour
2 3/4 to 3 3/4 cups all-purpose flour
Directions:
1. In large bowl, dissolve yeast in 1/4 cup warm water. Add honey, butter, salt, 2 1/2 cups very warm water and 3 cups of the whole wheat flour. Beat with electric mixer on low speed 1 minute, scraping bowl frequently. Beat on medium speed 2 minutes, scraping bowl frequently. Beat in remaining 1 1/2 cups whole wheat flour.
2. With spoon, stir in 2 1/4 to 2 3/4 cups of the all-purpose flour until dough pulls cleanly away from side of bowl.
3. On lightly floured surface, knead in remaining 1/2 to 1 cup all-purpose flour; be careful to only use as much flour as will keep the dough from sticking. Excess flour will cause the bread to be dense. Continue kneading 5 to 10 minutes or until dough is smooth and springy. Grease large bowl with shortening or cooking spray; place dough in bowl, turning dough to grease all sides. Cover; let rise in warm place 30 to 45 minutes or until doubled in size.
4. Generously grease 2 (8x4- or 9x5-inch) loaf pans with shortening or cooking spray. Gently push fist into dough to deflate; divide in half. Shape dough into loaves; place in pans. Cover; let rise in warm place 30 to 45 minutes or until doubled in size.
5. Heat oven to 375°F. Uncover dough; bake 30 minutes. Reduce oven temperature to 350°F; bake 5-10 minutes longer or until loaves sound hollow when lightly tapped. Immediately remove from pans to cooling racks. Cool completely, about 1 hour.