Asparagus with Goat Cheese Dressing
It's no secret that we love asparagus. It's by far the vegetable of choice in our house. When it's on sale, we've been known to eat it 3-4 times a week. I love eating it piping hot, as soon as it's done, which creates a problem when having company for dinner. The last thing I want is to be doing last minute cooking as guests arrive, and then feeling pressured to serve dinner quickly before the asparagus gets cold and stringy.
However, when I was planning for our French dinner party, I remembered a great asparagus salad that my brother's girlfriend had brought to a recent family event. It seemed like the perfect simple and elegant side dish to serve our guests, and as luck would have it, it called for goat cheese, which is French! (right?)
This is a great simple salad that can be made in advance and assembled just before serving. It's best eaten the same day it's made, but I did enjoy the leftovers the following day as well. The asparagus was nice and crisp/tender, and the creamy goat cheese combined perfectly with the slightly tangy dressing. Mike isn't a big fan of cold asparagus (I think he rated it a 2), but the rest of us really enjoyed it.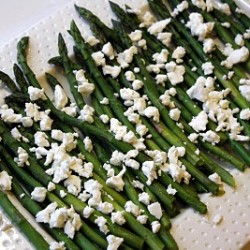 Asparagus with Goat Cheese Dressing
Ingredients:
2 Lbs. Asparagus
Salt & Pepper
3 Tbls. White wine vinegar
1 tsp. Dijon mustard
½ Cup Olive Oil
6 oz. Feta – Goat Cheese
1 Tbls. minced parsley
1 Tbls. minced red onion
Directions:
Steam asparagus three minutes, until bright green and crisp-tender. Rinse under cold water, drain thoroughly and dry with paper towels. Arrange asparagus on a platter and season with salt and pepper. Beat the vinegar and mustard together until smooth. Beat in the EVOO. Crumble the goat cheese over the asparagus and drizzle with the dressing*. Sprinkle with herbs and onion and serve.
(*I only used about 2/3 - 3/4 of the dressing)