Roasted Vegetable Macaroni and Cheese
This healthy take on classic macaroni and cheese is creamy and cheesy and chock full of roasted vegetables!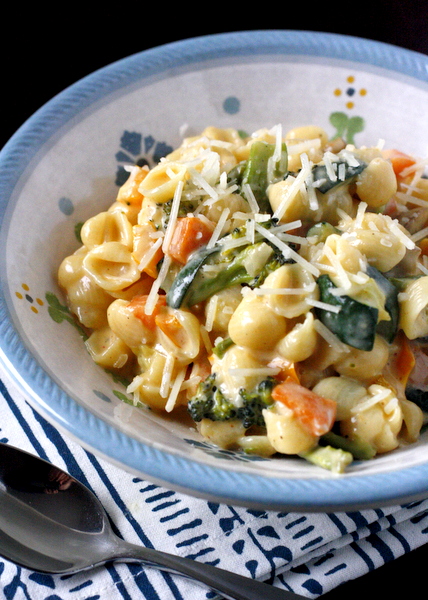 If you've been reading my blog for any length of time, you may know that I love macaroni and cheese. I have quite a few different recipes on my blog (like two cheese mac and cheese, creamy crock pot mac and cheese, or this creamy stovetop mac and cheese!), and I'm always looking to try new ones. I love the cheesy creaminess of it, and I also love that everyone in my family, kids included, eats it without complaint. 🙂 I especially love this roasted vegetable version because it is a great way to get an extra dose of vegetables in! And you really can't go wrong with yummy roasted vegetables covered in a deliciously creamy cheese sauce. 🙂 This is definitely comfort food with a healthy twist, and a recipe I'll be making again and again.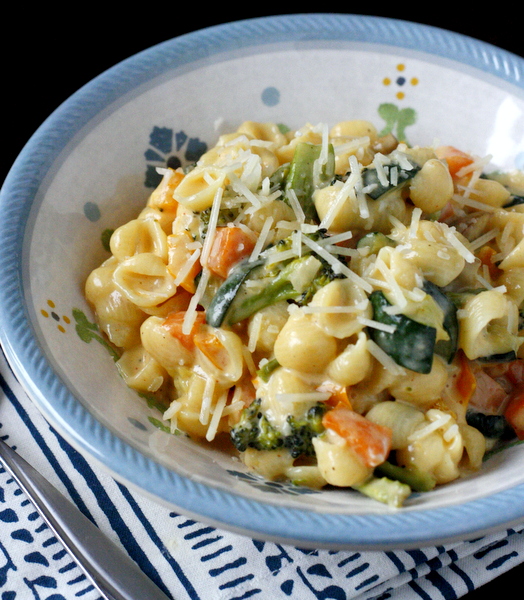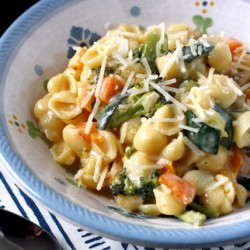 Roasted Vegetable Macaroni and Cheese
Yield: Serves 6-8
Prep Time: 15 minutes
Cook Time: 45 minutes
Total Time: 1 hour
This healthy take on classic macaroni and cheese is creamy and cheesy and chock full of roasted vegetables!
Ingredients:
1 large red bell pepper, diced
1 yellow squash, diced
1 small head of broccoli florets, chopped into bite-sized pieces
1 (8-ounce) package button or baby portabella mushrooms, quartered
1 small white onion, peeled and diced
2 Tablespoons olive oil
1 head garlic, cloves peeled
1 (12-ounce) can 2% evaporated milk
1 large egg
1/2 teaspoon salt
1/4 teaspoon ground black pepper
1/2 teaspoon smoked paprika
pinch of cayenne
12 ounces elbow macaroni (or any shape of pasta)
1 Tablespoon butter
8 ounces freshly-grated sharp white cheddar cheese
1/4 cup freshly-grated Parmesan cheese, plus extra for garnish
Directions:
Preheat oven to 400°F.  Prepare two large baking sheets with aluminum foil.
In a large bowl, toss diced vegetables with olive oil. Season with salt and pepper. Spread the vegetables out in an even layer on the baking sheet(s). Place the garlic cloves in the center of a sheet of aluminum foil, then wrap the foil around them to form a sealed packet and place the packet in the center of the baking sheet. Bake for 30-40 minutes, or until vegetables are soft and have begun to brown a bit around the edges, giving them a stir halfway through and checking on the garlic to be sure that it doesn't burn.
While the vegetables are roasting, bring a large pot of salted water to a boil, and cook the pasta until al dente. Drain the pasta, and then return the pasta to the pot and toss with butter over medium-high heat until melted.
Meanwhile, in a separate bowl, whisk together the evaporated milk, egg, salt, pepper, smoked paprika and cayenne until combined. As soon as the butter is melted with the macaroni, pour in the evaporated milk mixture and stir until combined. Continue cooking over medium-high heat, stirring occasionally, for about 2-4 minutes, or until the sauce comes to a simmer.
Remove pan from heat and stir in the grated cheddar and Parmesan until melted. Then gently stir in the roasted vegetables and roasted garlic cloves until combined. Serve immediately, topped with extra Parmesan cheese if desired.