Soft Sugar Cookies
I learned something about myself last weekend: when it comes to decorating cookies, I have virtually no artistic ability. I'm not kidding when I say that what you see here is the best of the bunch…that's how they made it onto the blog. It doesn't help that I was in a rush, impatient, and ready to go to bed because I always seem to forget just how long it takes to make and decorate sugar cookies. Plus, the only cookie cutters I own are Christmas themed. I should have stuck with circles…they're easier to frost.
Please don't judge these cookies by their looks, however. My inability to properly decorate did not in any way detract from their taste. They're delicious. Exactly what I was looking for in a sugar cooie. They're soft and moist, and perfect when combined with creamy sugary icing. And oh, the icing… it's no secret to those that know me that I love icing. I've been known to take a piece of cake, eat the icing off, and throw the cake away. (confession: I've done that with a few of these cookies as well). And Mike loves the icing on these cookies.  As he stated it, "put enough icing on the cookies and they'll taste so good no one will care what they look like."

p.s. I seem to have chosen red and green food coloring to compliment the Christmas themed cookie cutters. That was unintentional.
p.p.s. In the above pictures, Mike prefers the red decorated star to the green decorated star. The green one does not have enough icing. I'll know for the future.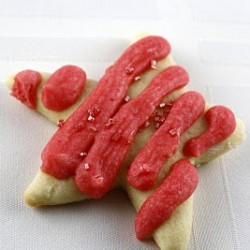 Soft Sugar Cookies
Ingredients:
Cookies:
1 cup sour cream
2 cups white sugar
1 cup butter
4 eggs
1 tsp vanilla or almond extract
6 cups flour
3 tsp baking powder
1 tsp baking soda
1 tsp salt
Vanilla Butter Frosting:
2/3 cup soft butter or margarine
6 cups confectioners' sugar
3 tsp vanilla
About 4 Tbsp milk or cream
Directions:
For the cookies: Preheat oven to 350.
Combine sour cream, sugar, butter, eggs, and vanilla and mix well. Add dry ingredients until everything is mixed together. Let the dough chill in fridge for 2 hours, or until firm.
Roll out the dough and use cookie cutters to cut shapes.
Bake until light golden brown-no more than 10 minutes. When you take them out they will seem underdone but aren't. Let them cool on the pan and they will be perfect and moist. It you like them harder and more crunchy just bake them a little longer. If the cookies are still a little thin and crispy, just roll the dough out a little thicker.
For the frosting: Blend butter and sugar. Stir in vanilla and milk; beat until frosting is smooth and of spreading consistency.