Lemon Orzo Salad
Awhile ago when I wrote about lemon cookies and my new obsession with lemons, I mentioned that there was another great lemon recipe from the same source that I wanted to share with you. Finally, weeks later, here is the second recipe. It's a warm lemon orzo salad with asparagus and spinach and chicken. It's delicious, simple, fast, and healthy. That makes it a winner in my book!
Maria recommended this recipe to me, and I must admit, at first I was skeptical. A pasta dish flavored only with lemon juice and salt and pepper? Plus this didn't seem like the type of meal Mike would like at all. I mean, where's the meat? it's just vegetables and pasta (I got around that one by adding some leftover chicken at the last minute!). But wow, I'm definitely glad I tried this. We've already had it three times! It's just so simple and fresh that we both ended up really liking it. I added plenty of salt and pepper and lemon juice at the end, and it was just delicious. We ate it steaming hot off the stove and even Mike said he was surprised how good it was. This is a great spring/summer recipe – give it a shot and let me know what you think!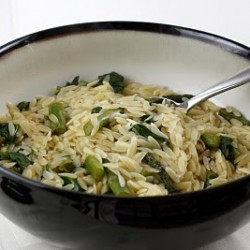 Lemon Orzo Salad
Ingredients:
1 cup uncooked orzo
Salt-about 1/2 tsp. for boiling water
2 cloves garlic, finely chopped
1 teaspoon olive oil
8-10 asparagus spears, cut into 1 inch pieces (*could substitute broccoli - also delicious)
1 cup packed fresh spinach, roughly chopped
Juice of 1 large lemon
Salt and pepper, to taste
1 cup cooked chicken, cut into bite size pieces, optional
Directions:
In a medium sauce pan, bring 4 cups of water to boil. Add the salt. Stir in orzo. Cook until tender, about 10 minutes. While orzo is cooking, in a small sauce pan, saute garlic in olive oil. Add in asparagus pieces. Saute for 3-4 minutes. Stir in spinach and chicken, if using. Cook until asparagus is tender and the spinach shrinks down and the chicken is warm.
Drain the orzo, transfer to a medium bowl and add the vegetables. Squeeze fresh lemon juice over the bowl and season with salt and pepper. Stir everything together and add more seasoning/lemon juice if necessary. Serve warm.
(This would also be delicious with feta cheese added at the end, but Mike refuses to eat anything with feta cheese in it, so we didn't try that particular variation)