Tortellini with Snap Peas and Pesto
This recipe for tortellini with snap peas and pesto makes a great summer meal. It's fresh and flavorful, and very quick to throw together. Mike and I both love tortellini in pretty much any dish, so of course I bookmarked this easy recipe when I saw it in the most recent Cooking Light magazine. Rather than using a traditional basil pesto, this recipe calls for a cup of fresh mint leaves in addition to the basil. The mint gives the pesto a nice bright flavor and unique taste. Throw in the combination of  tortellini and fresh snap peas (one of my favorite vegetables!), you are left with a quick, healthy, and delicious meal. We will definitely be making this one again!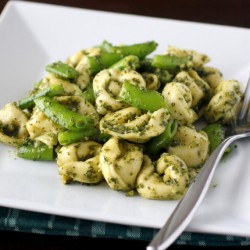 Tortellini with Snap Peas and Pesto
Ingredients:
1 cup fresh mint leaves
1 cup fresh basil leaves
3 Tbsp sliced almonds, toasted
2 Tbsp grated Parmesan cheese
1 tsp grated lemon zest
1/4 tsp freshly ground black pepper
1/8 tsp kosher salt
1 garlic clove, minced
3 Tbsp olive oil
1 Tbsp fresh lemon juice
1 (9-ounce) package refrigerated three-cheese tortellini
8 ounces sugar snap peas, trimmed and halved diagonally (about 1 1/2 cups)
Directions:
Place mint, basil, almonds, Parmesan, lemon zest, pepper, salt and garlic in a mini food processor; process until finely chopped, scraping sides of the bowl. Combine oil and juice in a small bowl. With processor on, slowly pour oil mixture through food chute; process until well blended. Set aside.
Cook tortellini according to package directions, omitting salt and fat.
Add snap peas to pan during last 3 minutes of cooking; cook 3 minutes. Drain.
Combine tortellini mixture and pesto, tossing gently to coat.
from Cooking Light, May 2014