Adirondack Salmon Chowder
I have a confession. I have a fear of cooking seafood. It's sad but true. If you look back at the history of this blog you will find zero (zero!) seafood recipes. Can anyone else relate? I mean there are so many intimidating questions – Where do you buy good seafood? What type should you buy? How do you cook it? How can you tell if it's done? My seafood world has been filled with fear, but I'm here to say that I'm tired of it. What good is a food blog if it doesn't force me to stretch outside of my cooking comfort zone and try something new? And so I took the seafood plunge. The result? A warm, creamy and delicious salmon chowder. And rest assured – if I can do it, you can too!
The secret to overcoming my fear of salmon was Alaska Seafood. When Foodbuzz (my ad network) asked if I wanted to try some seafood from Alaska, I jumped at the chance. This stuff is a fearful cooker's dream! Alaska Seafood is a marketing board that represents Alaska's sustainable seafood industry, so you know you're getting a quality product. It takes some of the guesswork out of buying fish. And best of all, no there were no scales – at least on the salmon I received! (I am completely grossed out by fish scales; yes I'm a wimp) It's easy to cook – you can grill it, saute it, broil it, pan-fry it, etc, and you don't even have to thaw it! Actually, it was so easy that Mike helped me cook it! 🙂
Yes, this is in fact the first thing Mike has cooked in months (years?). Let that fill you with hope –  you can't go wrong. p.s. isn't he cute??
Now, on to the recipe. This is a recipe with a history. Mike's coworker sent me this recipe for salmon chowder months ago. It's one of her family's favorites, and she thought we would enjoy it as well. I thought it sounded great – I love the idea of salmon chowder, and Mike was really excited to try it. Just one problem – I had no idea how to cook salmon! So I didn't make it. For months I let it sit in my inbox, where it continued to make me feel guilty for letting fear keep me from trying a great new recipe.
Well, let me tell you, this recipe was worth the wait. We loved it! I made it on the first "fall-ish" day  of the year, and it was so nice to sit out on our porch on a cool evening and enjoy a bowl of steaming hot chowder!  Ambiance aside, this soup is delicious. It's thick and creamy without being too rich, and it has enough vegetables that I was able to fool myself into thinking it's healthy. I made a few changes to the recipe based on personal taste and to make sure I could utilize the convenience of my frozen salmon. I think you could make any number of variations to this recipe and still have it turn out great. And best of all, I have increased confidence in the realm of seafood. Well, at least in the realm of salmon. What's next…shrimp? scallops? lobster??? The sky's the limit 🙂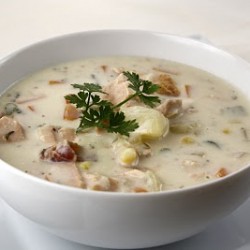 Adirondack Salmon Chowder
Ingredients:
2 cups chicken broth
½ cup chopped onion
½ cup diced celery
2 cups diced carrots
1½-2 cups diced potatoes
2 Bay Leaves
1½-2 teaspoons garlic powder
1 tablespoon old bay seasoning
1 teaspoon parsley
1 teaspoon salt
1 teaspoon ground black pepper
1 teaspoon dried dill weed
½ stick butter
1/3 cup flour
1 qt. (4 cups) milk
1 teaspoon cornstarch
6 slices bacon, cooked and diced
1 - 1 1/2 lbs frozen Alaska Salmon (not thawed)
1 cup frozen corn
1 12 oz. pkg. Cream cheese
Directions:
To cook the salmon: Heat a heavy nonstick skillet over medium-high heat. Brush both sides of the fish with canola oil. Place fish in the heated pan (skin side up if the skin is still on). Cook uncovered 3-4 minutes or until browned. Turn the fish over, season with salt and pepper, and cover the skillet. Reduce the heat to medium and cook 6 more minutes. Let salmon cool on a plate, then flake apart into bite sized pieces. Set aside.
Simmer chicken broth, onion, carrots, celery, potatoes, bay leaves and other seasonings for 15-20 minutes in a covered medium saucepan, until vegetables are soft.
Heat milk in microwave for 2 minutes. In a separate large-sized stockpot, melt butter then add flour and pepper. Cook together for a couple of minutes, then whisk in warmed milk. Stir and heat together on medium-high heat until the mixture starts to thicken slightly, being careful not to let the it boil. In a small bowl, mix 1 tsp cornstarch with a little bit of water to create a slurry. Add to the pot and allow to thicken slightly.
Remove the bay leaves from the chicken broth and add the chicken broth and vegetables into the milk mixture.
Stir in corn, bacon, salmon, and cream cheese. Cook on medium, stirring frequently until heated through and cheese has completely melted. Taste and adjust seasonings as necessary.
from Mike's coworker Allison, adapted from Musky Bob's Adirondack Series
*Note: I received Wild Alaska Seafood from Foodbuzz expressly for this post. I was not compensated in any other way for this post, and all thoughts and opinions are my own.