Baked Zucchini Sticks
We're always looking for new ways to eat zucchini. Well, I am at least. Mike loves his zucchini simple and straightforward – sauteed with salt and pepper and parmesan cheese, and is hesitant to try any other version. While I also really like zucchini prepared that way, I'm more than willing to experiment. Especially when the recipe comes from my beloved King Arthur Flour. I've yet to try a recipe from there that I didn't absolutely love (chocolate globs? blueberry bread? so good!)
These zucchini fries turned out to be as good as I was expecting. Panko bread crumbs and a combination of Italian seasonings make them crispy and flavorful. We dipped them in marinara sauce, and I loved them. Mike said he liked them, but not as much as our traditional zucchini. That was fine by me – that meant I got all the leftovers!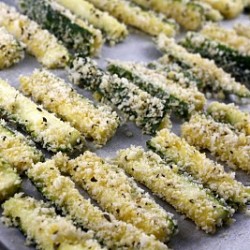 Baked Zucchini Sticks
Ingredients:
3 medium zucchini (about 1 1/4 lbs), cut into 3 inch sticks
1 Tbsp salt
1 cup Panko bread crumbs
1/4 cup freshly grated Parmesan cheese
1 tsp basil
1 tsp oregano
1 tsp parsley
2 eggs, scrambled
olive oil spray
salt
Directions:
Place the zucchini sticks in a colander over a bowl and sprinkle with salt. Let the zucchini drain for 1 hour. Combine the bread crumbs, parmesan cheese, and seasonings in a bowl and set aside.. Preheat the oven to 425. Line a baking sheet with parchment paper and spray with olive oil cooking spray. Blot the zucchini dry with paper towels. Dip them in the eggs, roll them in the bread crumb mixture, and place on the prepared baking sheet. Once all the zucchini are on the baking sheet, spray the tops lightly with olive oil spray. Sprinkle with salt. Bake for 12 minutes, then turn the sticks over and bake for 8 more minutes, or until gold brown and crispy. Serve immediately with marinara sauce for dipping.
from King Arthur Flour Baking Sheet