Tomato, Basil, Mozzarella Baguette
This is so simple I feel guilty really posting a recipe for it. But this is one of our favorite summer dinners, and until I had this exact sandwich in London (multiple times), I never thought to make it on my own. All it consists of is a baguette with sliced tomatoes, fresh mozzarella cheese,  pesto (or fresh basil), and salt and pepper. Toast it in a panini press and dinner could not be more simple, or more delicious!  I'm convinced that the tastiness of this sandwich is directly proportional to the freshness of the ingredients, and having good baguettes really makes the sandwich stand out. I used my favorite recipe for French Baguettes and cut each baguette into thirds. I froze the bread the same day I made it so it's easy to grab a couple out of the freezer to make this sandwich for a quick dinner.  You can't go wrong with a comibation of tomato, basil and mozzarella…try this sandwich and let me know what you think 🙂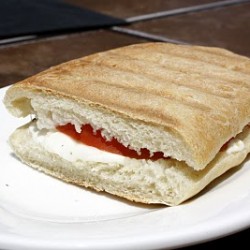 Tomato, Basil, Mozzarella Baguette
Ingredients:
French baguette, cut into sandwich size pieces
tomatoes, sliced
fresh mozzarella cheese, sliced into rounds
fresh basil, roughly chopped (or prepared pesto)
salt and pepper
Directions:
Slice the baguettes open. Place sliced tomatoes, cheese, and basil (or pesto) on one half of the baguette and sprinkle with salt and pepper to taste. Close up the sandwich and grill on a panini press for 5 minutes, or until bread is toasted and cheese is melted.