Chipotle Turkey Chili
I've posted this chili once before (and just updated the pictures because oh my gosh were they terrible), but it definitely deserves a re-post. Especially this time of year, when it's cold and snowy and the superbowl is right around the corner. (What is it about chili that makes it such a good football food? I couldn't come up with anything, but when I asked Mike he came up with 4-5 different reasons. Maybe it's because he actually watches football.)  We love this chili. And even though I've never eaten it while watching football, I think that you should.
Things that I love about this chili:
Chipotle Seasoning – One of my favorite flavors, this seasoning gives the chili a great smoky flavor and a spicy kick!
It's made with ground turkey! That makes it healthy, right?
It is incredibly simple to make – a 30 minute meal.  I was telling Mike how I made it and he said "wow, I could even make that." True, but I don't think we'll be seeing it anytime soon.
Black beans – I don't like kidney beans at all, so any chili that calls for black beans immediately gets a higher rating in my book. And the corn.  I know there are different ideas out there about corn in chili, but in this chili it just seems to work.
It seriously tastes amazing. Serve it with some cheese, sour cream and tortilla chips, and I can't get enough of this stuff!
p.s. For a great cornbread recipe to go with your chili, check out the original chili and cornbread post! Definitely the best cornbread I've had!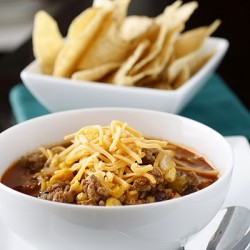 Chipotle Turkey Chili
Ingredients:
1 lb. ground turkey
1 small onion chopped
2-3 stalks of celery chopped
2 pablano peppers chopped
2 cloves of garlic smashed and minced
1 teaspoon dried chipotle pepper
1 tablespoon chili powder or to taste
½ teaspoon ground cumin
1 packet of chili seasoning mix
Salt and pepper to taste
1 can (12 oz.) crushed tomatoes
2-3 cups chicken stock
2 cans of black beans, drained and rinsed
1 can of corn, drained or about 2 cups of frozen corn
sour cream and cheese for topping
Directions:
Heat a large soup pot to medium-high. Add ground meat and a little salt and pepper (and a little oil if using all white meat) and cook, stirring and breaking up, until there are no pink spots left in meat (about 5-8 minutes). Remove meat to a bowl or platter. In the same pot add the onion, celery, pepper, garlic and a little more salt and pepper. Lower the heat to medium and cook until translucent (about 5 minutes). Add the meat back in. Then add the chili seasoning mix, chili powder, cumin, and the dried chipotle pepper. Stir all ingredients until blended. Add the can of crushed tomatoes and stir. Add chicken stock to desired consistency. Bring to a simmer; cook about 10 minutes, then taste. Add a few dashes of chili powder and/or salt if needed. Add the canned beans and corn. Simmer for 5 more minutes. Serve in a bowl or mug with sour cream and cheese on top and tortilla chips on the side.