Bagel Chips with Spicy Cheese Spread
I hope everyone had a wonderful Christmas! We had a great time back home in Pennsylvania with my parents and extended family. It was nice to have a long weekend to relax and enjoy the holiday. Because I was traveling and staying with my parents, I didn't contribute much to Christmas dinner. Just lots of leftover Christmas cookies (all of which came out of the freezer perfectly), and these bagel chips. And I think the bagel chips were a bigger hit than the Christmas cookies!
I actually got this recipe from Mike's first grade teacher! She was such a wonderful teacher that Mike stayed in touch with her for years, and recently got back in contact with her via facebook. She had us (and Mike's whole family) over for dinner a few weeks ago, and while all of the food was delicious, the star of the meal was definitely these bagel chips. They're light and crunchy and buttery, with a hint of garlic (although you could add whatever seasoning you wanted). They're perfect for eating plain or dipping in a cheese dip. Thankfully his teacher was kind enough to share the recipe, and I wasted no time in making them myself. I served them with a cheeseball type spread with a hint of spice, which seemed to pair perfectly with the salty garlicy chips, and they were a huge hit. These would make a great New Year's Eve snack, or even a great snack just to keep around the house.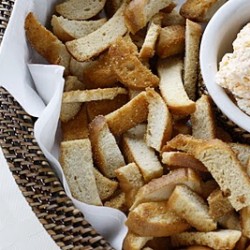 Bagel Chips
Ingredients:
Bagel Chips:
3 bagels, sliced open and sliced into thin pieces
2 Tbsp butter
3 Tbsp olive oil
Spicy Cheese Spread
4 oz cream cheese, softened
1 Tbsp butter, at room temperature
1/2 cup shredded sharp cheddar cheese
1 tsp lemon juice
few drops of worcestershire sauce
Seasonings to taste (salt, white pepper, cayenne pepper, chipotle pepper, garlic salt)
Directions:
For the bagel chips: Pre-heat the oven to 350. Slice the bagels in half (like you're going to serve them), then slice each half into thin pieces. Melt butter and olive oil in a large baking pan (10x15). Sprinkle with seasoned salt or garlic salt (or preferred seasoning). Press the bagel slices into pan and bake for 15 minutes. Turn oven off and let them sit until they reach the desired crispness (I left them for about 10 minutes).
For spicy cheese spread: Mix all ingredients together until well blended. Start with small amounts of the seasonings and add to taste.