Mint Chocolate Puddles
These mint chocolate puddle cookies have a fudgy cookie base and a melty mint chocolate "puddle" on top!
The combination of mint and chocolate always makes me think of Christmas. It's one of my favorite flavor combinations, and this cookie is no exception.
This is a recipe I saw last year around Christmas, but I'd already made way too many cookies by that point. So I did what any rational person would do and immediately added it to my list for this year. And it lived up to my every expectation.
These minty treats consist of a thin chewy chocolate cookie with a melted andes mint "puddle" on top of it. I'm guessing that's all I would have to say and you would already want to make these. 🙂
I don't need to add that the cookie part is soft and fudgy. Or that there is almost more chocolate puddle than cookie. Or that the andes mint actually hardens back up fairly quickly so that you can actually stack them and store them easily.
I don't need to say all that, but I will. Because I can't stop talking about these cookies. I can already tell they will be a favorite around our house.
P.S. You can see all of my Christmas treat recipes from over the years at this Christmas Cookies tag. Enjoy! And, as always, let me know if you try any and how you liked them.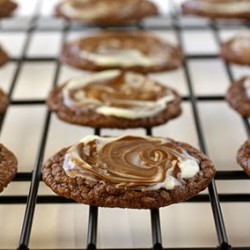 Mint Chocolate Puddles
Yield: Makes 35-40 cookies
Prep Time: 15 minutes + 1 hour chill time
Cook Time: 10 minutes
Total Time: 1 hour, 35 minutes
These mint chocolate puddle cookies have a fudgy cookie base and a melty mint chocolate "puddle" on top!
Ingredients:
6 Tbsp unsalted butter
3/4 cups brown sugar
1 Tbsp water
1 cups semisweet chocolate chips
1 eggs
1 1/4 cups all purpose flour
1/2 tsp + 1/8 tsp baking soda
1/4 tsp. salt
2 packages (4.5 oz. each) Andes mints
Directions:
In a saucepan over medium heat, heat the sugar, butter and water, stirring occasionally until melted. Remove from heat and stir in chocolate chips until melted. Set aside to cool for 10 minutes.
Pour chocolate mixture into a large bowl and whisk in the egg. Combine the flour, baking soda, and salt in a separate bowl. Stir into the chocolate mixture.
Cover and refrigerate dough for at least 1 hour.
Preheat oven to 350. Grease cookie sheets or line with parchment paper. Roll cookie dough into walnut sized calls and place 2 inches apart onto prepared cookie sheets. Bake for 8 - 10 minutes, be careful not to over bake. Immediately press one mint into the top of each cookie.
Let sit for 1 minute, then swirl with the back of a spoon to make a pattern to make a pretty green and brown chocolate puddle on top of the cookie.
Click here to see the rest of the 12 Days of Christmas Treats
If you like what you see, you may want to sign up to get free email updates or subscribe via rss. 🙂