Zvi's Cinnamon Swirl Bread (and a giveaway!)
To be honest, I'm a little sad as I write this post. The
12 Days of Christmas Treats
series is officially over. But I meant what I said in my last post – I'm already planning next year's treats!  So, to overcome my melancholy I decided to post another fun recipe….plus a giveaway! Hopefully this will help cheer anybody up who is also already missing the daily Christmas treats.
This recipe comes from the
Tate's Bake Shop
cookbook. I got an email asking me if I'd like a free cookbook, (plus some sample cookies) and the chance to offer a giveaway to my readers. A cookbook and cookies? Of course I said yes! Unfortunately the cookies weren't quite my style – they're more of the crispy variety, while I prefer soft and chewy cookies. But I've greatly enjoyed looking through the cookbook. It's full of recipes for cookies, breads, and cakes. And with a foreward by Ina Garten, you know there are some good recipes in there. For my first recipe I decided to make cinnamon swirl bread. The description in the book made me think it would make a great breakfast, and after making it I would have to agree.
The bread is fairly easy to make.  It's more of a sweet bread than I expected, but the sweet flavor pairs perfectly with the cinnamon swirl. I was initially disappointed when I cut into it and took my first bite. It somehow seemed a little dry;. (I probably added too much flour while kneading – a common problem of mine). But I decided to toast some for breakfast and add some butter and it was delicious! The sweetness of the bread really came through and the texture was perfect for toast. All of a sudden I was very thankful that this made 3 loaves of bread. I foresee some tasty breakfasts in our future. Plus Mike is already looking forward to using it to make some french toast!
Scroll down for the giveaway!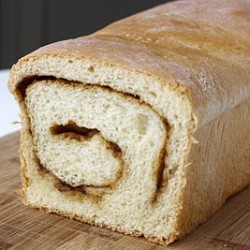 Zvi's Cinnamon Swirl Bread
Ingredients:
Bread:
3 1/4-ounce packages of active dry yeast
1/2 cup warm water (about 105 degrees)
1 1/2 cups warm milk
1/2 cup sugar
1 Tbsp salt
1/2 cup salted butter
4 large eggs lightly beaten, at room temperature
8 cups all-purpose flour (You may use 3/4 cup more when kneading).
Swirl filling
1/2 cup salted butter, softened
3/4 cups firmly packed dark brown sugar
1 1/4 tsp cinnamon
Directions:
*Note: You can double the filling if you'd like it to be gooey inside.
Dissolve the yeast in warm water in a large mixing bowl with a pinch of sugar. Let it stand for 5 minutes. Meanwhile, heat the milk, sugar, salt, and butter until warm to the touch. Do not boil.
Add the eggs, 4 cups of flour, and the milk mixture to the yeast. Mix using a stand mixer fitted with the dough hook attachment (or stir by hand with a wooden spoon). Grdually add the remaining flour, mixing until it forms a stiff dough.
Remove the dough from the bowl and place on a flour dusted work area. Knead the dough until it springs back when you press it with your finger and it is smooth and elastic. Place the dough in an oiled bowl. Roll it around once to coat it all over with oil. Cover it with a towel and let it rise in a warm area until doubled in size, about 1 hour.
Make the filling: Cream the butter, sugar and cinnamon and set aside.
Punch down the dough and grease 3 9x5 inch loaf pans. Divide the dough into three equal portions, roughly 1 1/2 pounds each. Roll out each piece into an 8x12 rectangle. Spread the filling evenly onto each rectangle, spreading it over the entire surface, leaving a half-inch border. Roll from the 8-inch side like a jellyroll. Pinch the edges and ends together. Tuck the ends under slightly and place seam side down in the prepared pans. Cover and let rise for 1 hour.
Toward the end of the rising time, preheat the oven to 350. Bake the bread for 1 hour and 10 minutes.
This giveaway is now closed. The winner (via random number generator) was comment #5 –
Cara
! Congratulations Cara 🙂
You have a chance to win this fun prize back – a Tate's Bake Shop cookbook and 3 sample packs of cookies! For a chance to win, leave a comment letting me know your favorite Christmas cookie of all time.
For an extra entry, "like"
Tate's Bake Shop
on facebook, then come back here and leave a comment letting me know.
I'll choose a random comment on Friday morning and notify the winner via email.  (Make sure I have a way to contact you if you win.) Good luck!
p.s. If you don't win, you can still get 15% off any Tates Bake Shop purchase until December 31 by using the discount code "cookie"!
*Note: The cookbook, sample cookies and giveaway prizes were provided by Tate's Bake Shop. As always, all opinions are my own.