Slow Roasted Pork Carnitas
I had a friend tell me this weekend that if she sees a recipe with too many ingredients, she immediately puts it aside as too difficult to make. If anybody else feels the same way she does, then these pork tacos are for you! Not only is there a short ingredients list, but the recipe couldn't be easier and it tastes like you slaved all day over it.  The pork simmers for hours on the stove, requiring little to no attention, and in the end it literally melts in your mouth. It's tender and flavorful and is sure to have people going back for seconds.  We've served it to guests twice now and both times have had people eating the leftover pork straight out of the pot.
I'm still trying to convince my friend that a long ingredient list does not mean the recipe is difficult, but in the meantime, these pork carnitas are proof that you don't need a lot of ingredients to make a great meal.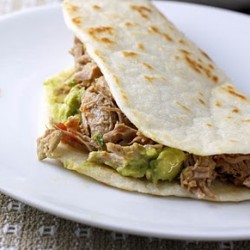 Slow Roasted Pork Carnitas
Ingredients:
3 pounds pork shoulder or pork butt, chopped into 1 inch cubes
2 cups beef stock
2 cups Orange Juice
14 oz chunky salsa
Salt
Corn or Flour Tortillas for serving
Salsa, Guacamole and Cheese (for toppings)
Directions:
Combine the cubed pork, stock, orange juice and salsa in a dutch oven or oven safe saucepan, The liquid should totally cover the pork. If it doesnt, add a little water until the pork is submerged. Bring to a boil. Once boiling, reduce heat to medium low and simmer with the lid on for 3.5 hours. The pork should be falling apart to the touch.
Towards the end of the cooking time, pre-heat the oven to 450. When the pork is done, drain the liquid from the pork. Using a fork, gently pull apart the meat in the bottom of the pot or saucepan. Place the pan into the oven for 20 minutes for the pork to caramelize.
Remove the pan from the oven and sprinkle with a pinch of kosher salt. Serve the carnitas with corn or flour tortillas, salsa, cheese and guacamole.