Copycat Shamrock Shakes
It's March, and if you've been to a McDonald's in the past month you  know what that means: Shamrock Shakes are back! I love those minty green shakes and always make sure to buy one before they disappear for another year. But last week I realized just how easy it would be to make my own! So this is my Works for Me Wednesday tip for you: make your own shamrock shakes! It really couldn't be easier, and the minty creamy taste is wonderful.
*Note: The milkshake pictured above really was green. The setting sun and poor light combined with my feeling that eating the milkshake before it melted was more important than a good picture contributed to the issue.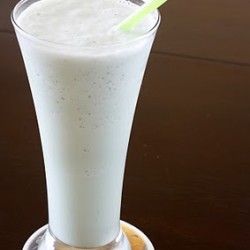 Copycat Shamrock Shakes
Ingredients:
2 cups vanilla ice cream
1 1/4 cups 2% milk
1/4 tsp mint extract
green food coloring
Directions:
Combine all ingredients in a blender and blend on high speed until smooth.