Unstuffed Peppers
For today's recipe I'm sticking with the theme of simple recipes with short ingredient lists. This meal tastes amazing, and yet it's so easy to make! The recipe comes from the Rachael Ray Magazine and as soon as I saw it I knew I was going to make it as soon as possible.  I"m not a huge fan of stuffed peppers, but chopping the peppers and cooking everything together in a skillet sounded like a great idea! Mike, however, was uncertain. I think his actual comment went something along the lines of "Stuffed peppers? I don't like those. I don't think I'll like this meal." Naturally, I ignored him and made it anyway, and of course he loved it. Flavorful sausage, wild rice, peppers and mushrooms – there is nothing about this meal we didn't like. Add in the ease of prearation and I'm predicting that this is another meal that will make it into our regular rotation.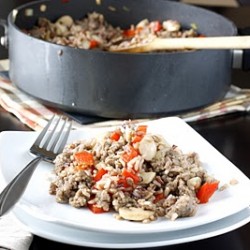 Unstuffed Peppers
Ingredients:
1 cup long-grain wild rice
1 pound mild italian sausage, casings discarded
2 bell peppers, chopped
One 10-ounce package white mushrooms, sliced
1 red onion, chopped
Directions:
In a large saucepan, bring 2 cups water, the rice and 1/2 teaspoon salt to a boil. Cover the pan, lower the heat and simmer until tender, about 40 minutes. Remove from the heat and let stand, covered, for 10 minutes; fluff with a fork.
Meanwhile, heat a large skillet over medium heat. Add the sausage and cook, breaking up the meat, until browned, about 5 minutes. Using a slotted spoon, transfer the sausage to the cooked rice. Return the skillet to the heat and add the bell peppers, mushrooms and onion. Add a little olive oil to prevent sticking if necessary. Season with salt and pepper and cook until the vegetables are crisp-tender, about 5 minutes. Add the veggies to the sausage and rice and toss.