Classic Vanilla Butter Cupcakes
The first year we were married, Mike made me a cake for my birthday. We'd only been married for about 1 month, so I think he was still trying to impress me with what a good husband he was. He made a spice cake from a Betty Crocker mix (my favorite!) with spice icing. I'm pretty sure it's the only cake he's ever made and he was so proud of himself. The cake turned out wonderfully, and he went to work the following Monday and told his coworkers he made a cake  – "from scratch". As it turns out, he had no idea that making a cake from a box mix is not, in fact, baking it from scratch. When his coworkers realized this, everyone had a big laugh, and he hasn't made me another cake since.
I'm not one to put down cake mixes (that Betty Crocker spice cake is seriously my favorite!), but when a "from scratch" cake turns out as good as these cupcakes, there really is no reason to start with a boxed mix. These cupcakes are light and fluffy with a great vanilla flavor. The cake isn't as sweet as you'd expect, which makes it a perfect balance to the vanilla buttercream icing. The combination of vanilla cupcakes with vanilla icing was wonderful. Mike couldn't get enough of these, and neither could I. This is an all-around classic vanilla cake recipe that can be made as a layer cake, a sheet cake, or cupcakes. I'm sure I'll be returning to this recipe again and again.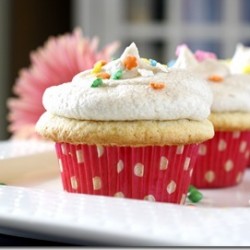 Vanilla Butter Cupcakes with Vanilla Buttercream Frosting
Ingredients:
Cake:
4 large eggs (separated)
3 1/2 cups sifted cake flour
4 teaspoons baking powder
1/2 teaspoon salt
1 cup (227 g) unsalted butter, at room temperature
2 cups granulated sugar, divided
2 teaspoons pure vanilla extract
1 cup milk (room temperature)
1/4 teaspoon cream of tartar
Frosting:
3 sticks unsalted butter
pinch of salt
1 Tbsp pure vanilla extract
6 cups powdered sugar
~4 Tbsp heavy whipping cream (or milk)
Directions:
For the cupcakes: Preheat oven to 350 degrees and place rack in center of oven. Line approximately 30 cupcake tins with cupcake liners. (You may have to bake them in two batches). While eggs are still cold, separate the eggs, placing the yolks in one bowl and the whites in another bowl. Cover the two bowls and allow the eggs to come to room temperature (about 30 minutes).
Sift the flour, baking powder, and salt into a mixing bowl. In a separate bowl, beat the butter with an electric mixer until soft (about 1-2 minutes). Add 1 1/2 cups of sugar and beat until light and fluffy (about 3 minutes). Add egg yolks, one at a time, beating and scraping down the sides of the bowl after each addition. Add the vanilla and beat until combined. With the mixer on low speed, alternately add the flour mixture and milk, in three additions, beginning and ending with the flour.
In a clean bowl using the whisk attachment of an electric mixer, beat the egg whites until foamy. Add the cream of tartar and continue beating until soft peaks form. Gradually add the remaining 1/2 cup sugar and continue to beat until stiff peaks form. Using a rubber spatula gently fold a little of the whites into the batter to lighten it, and then fold in the remaining whites until combined. Be careful not over-mix or deflate the batter.
Divide the batter evenly between the cupcake tins. Bake in preheated oven for 18-20 minutes, or until a toothpick inserted into a center cupcake comes out clean.
Cool the cupcakes in their pans on a wire rack for 10 minutes, then remove from the pan.
For the frosting: Cream the butter bowl of an electric mixer. Beat in the sugar and vanilla. Add the cream a Tablespoon at a time and beat until icing is a spreadable consistency.