Honey Almond Granola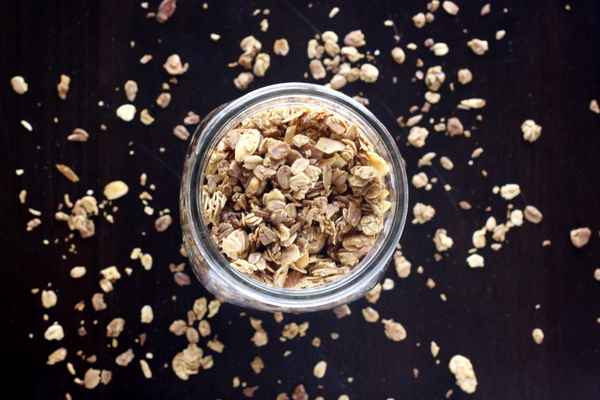 When it comes to food, Mike is a creature of habit. He eats the same thing for breakfast and lunch every day. Of course, I pack his lunch and buy his breakfast food, so maybe that actually makes me a creature of habit. Regardless, every morning he has a bowl of cereal and a smoothie for breakfast. I'm starting to think that cereal (especially the kind he prefers) isn't necessarily the healthiest choice. Enter: homemade granola! I've made granola plenty of times in the past, but to be honest, most of the time I just don't get around to making it on a regular basis. However, with a recipe this easy, there really is no excuse to not have it on hand all the time.
Not only is this granola recipe simple and easy, it's also very customizable. It is a great granola base with oats and honey and almonds, but you could substitute other nuts, increase or decrease the sweetness level, add in some dried fruit, etc. This is a great starting point for however you like to eat your granola. Plus, have I mentioned it's easy?  Mike loves eating this for breakfast, although i have to admit that it's such a habit for him to reach for the cereal box first thing in the morning that I find myself having to remind him that there's granola available.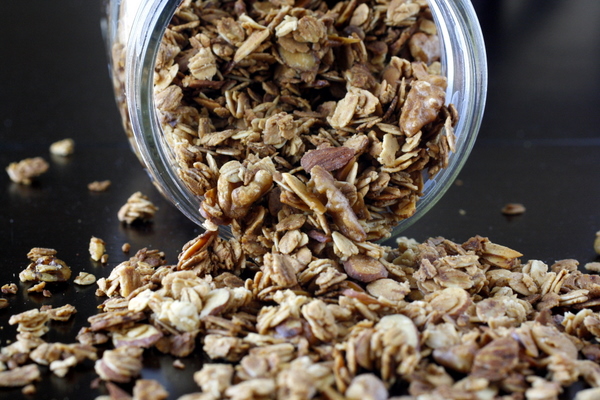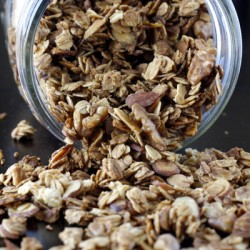 Honey Almond Granola
Ingredients:
3 1/2 cups oatmeal (quick or old fashioned, uncooked)
1/2 cup slivered almonds
1/2 cup honey
4 Tbsp unsalted butter, melted
1 tsp vanilla
1/2 tsp cinnamon
1/4 tsp salt
dried fruit
Directions:
Pre-heat oven to 350. Spray a 15x10 jelly roll pan with nonstick spray. Combine the oats and almonds in a large bowl and set aside. Combine the honey, butter, vanilla, cinnamon and salt in a small bowl and mix well. Add the honey mixture to the oats and almonds and stir to combine. Spread the mixture evenly in the prepared pan. Bake 30-35 minutes or until golden brown, stirring every 10 minutes. Be careful as it burns quickly near the end. Stir in the dried fruit. Cool completely before storing in an airtight container.