Peanut Butter Oatmeal Chocolate Chip Cookies
Meet my new favorite cookie. (When it comes to chocolate chip cookies, I reserve the right to have more than one favorite). With peanut butter, oatmeal, and chocolate chips all in one cookie how could you go wrong? These are absolutely delicious. They're perfectly thick and soft and chewy, and the flavors combine so well that you're not quite sure what you're eating, you just know that it's delicious.
Mike and I both absolutely loved these. And they're by far the prettiest cookies I've ever made. Normally my cookies turn out flat and unappetizing, but I used the shaping method recommended in another post by Brown Eyed Baker, and these were perfect. I also followed her instructions on how big to make the cookies, and I think that made a difference as well. There's just something more fun about eating a big cookie.  If you're looking for a classic thick and chewy cookie with delicious twist, give these a try – we definitely recommend them.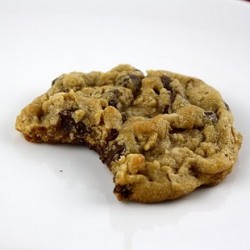 Peanut Butter Oatmeal Chocolate Chip Cookies
Yield: Makes 16-18 cookies (depending on how much dough you eat - just a warning, its addicting!)
Ingredients:
1 cup all-purpose flour
1 teaspoon baking soda
¼ teaspoon salt
1 stick (½ cup) unsalted butter, at room temperature
½ cup creamy peanut butter
½ cup granulated sugar
1/3 cup light brown sugar
½ teaspoon vanilla extract
1 egg
½ cup rolled oats
1 cup semisweet chocolate chips
Directions:
Preheat oven to 350. Line two baking sheets with parchment paper and set aside. Whisk together flour, baking soda and salt and set aside. On medium speed, cream together the butter, peanut butter, granulated sugar, brown sugar and vanilla extract, about 3 minutes. Add the egg and beat to combine. On low speed, gradually add the flour until just combined. Stir in the oats, and then the chocolate chips. Use a large cookie scoop (3 tablespoons, 1.5 oz) and drop dough onto prepared baking sheets about 2 inches apart. Bake for 10 minutes, or until the cookies are lightly golden. *They will not look done, but if the edges are set and the cookies are puffy and lightly browned, pull them out. They'll finish cooking on the warm baking sheet. Cool completely on the baking sheet and then store in an airtight container at room temperature.