Simple Quinoa Salad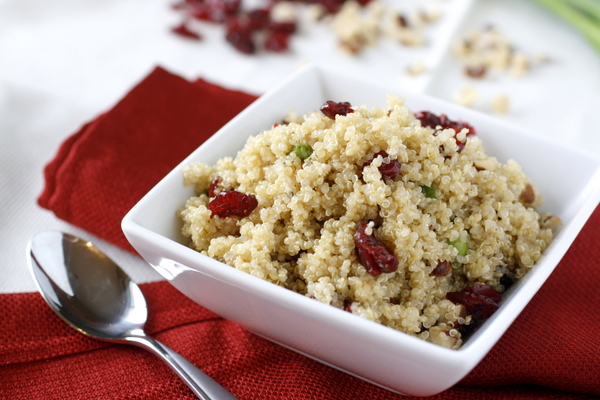 I have been wanting to try quinoa for awhile, but to be honest, it made me a little nervous. I'd heard that it's healthy, and I've had friends tell me they thought I would like it, but still…it just sounded so "out there." I mean, I didn't even know how to pronounce it correctly! (keen-wa for anyone else out there who is as clueless as me).
Quinoa is a protein-rich seed that has a fluffy, chewy texture and slightly nutty flavor when cooked. I tried it for the first time at blogHer Food when the Bob's Red Mill people were kind enough to offer up a sampling of this quiona salad. I loved it so much I made the same salad at home the very next week! (with quinoa samples Bob's Red Mill sent home with me – thanks!!)  I made a few substitutions based on what I could find, and the salad was just as good as I remembered. I don't think Mike liked it quite as much as I did (he wasn't quite sure what he was eating), but he did happily eat a few servings of it. This salad would be perfect paired with freshly grilled meat or fish, or even by itself as a light lunch. Give this simple salad a try and let me know what you think of quinoa!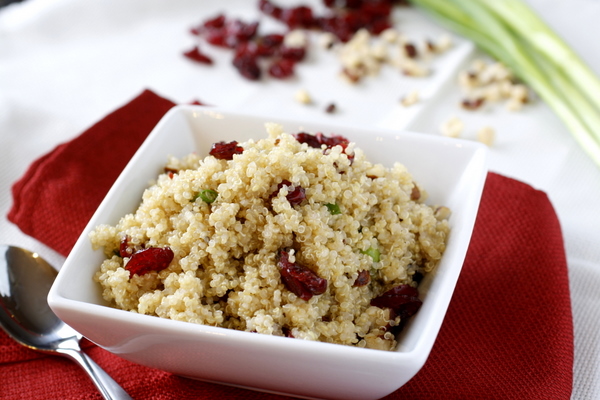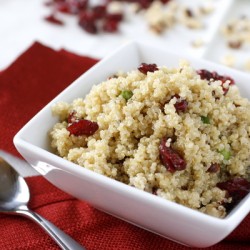 Simple Quinoa Salad
Ingredients:
2 cups uncooked quinoa
1/2 cup hazelnuts, chopped and toasted
1/4 cup minced green onions
1/4 cup craisins
~1/4 cup red wine vinegar
~1/4 cup olive oil
Directions:
Boil 4 cups of water; add quinoa and cook on medium heat for 10 minutes. Drain the water and spread the quinoa on a cookie sheet and let cool to room temperature. Do not rinse. After the quinoa is cool, place in a bowl, add the hazelnuts, green onions, craisins, and mix together. Add the red wine vinegar and olive oil to taste (I didn't use the full 1/4 cup) and season with salt and pepper.