Creamy Chicken Taquitos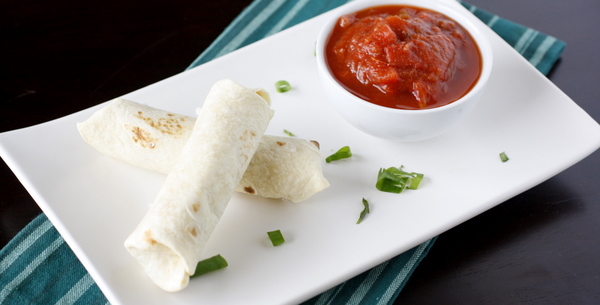 Would you believe I've never had frozen taquitos from the grocery store? I feel like that's one of those freezer foods everyone always talks about, and I was starting to wonder if I was missing out. Then, this past weekend, I made my own homemade taquitos and now I don't care if I ever taste the pre-packaged ones from the freezer aisle.  These are so quick to make and I can't imagine the store-bought version comes anywhere close to as good as these taste. They're crispy on the outside, creamy and cheesy on the inside, and completely delicious. Best of all, they're very freezer friendly. I made a double batch so that we could keep some in the freezer for future quick meals.
What about you? Have you ever had the pre-packaged frozen taquitos? Ever made your own? Either way, try these and let me know the results! 🙂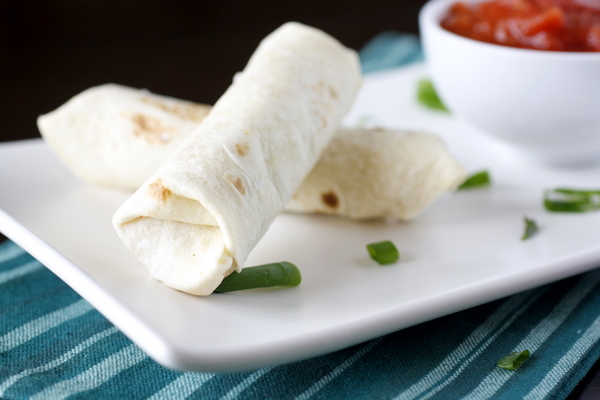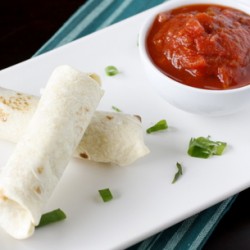 Baked Creamy Chicken Taquitos
Ingredients:
3 oz. cream cheese, softened
¼ cup salsa
1 tbsp. freshly squeezed lime juice
1 tsp. chili powder
½ tsp. cumin
½ tsp. onion powder
2 cloves garlic, minced
3 tbsp. chopped cilantro
1-2 green onions, chopped
2 cups shredded cooked chicken
1 cup shredded Mexican cheese (cheddar, pepper jack, etc. would also be good)
10-12 6-inch flour tortillas
Cooking spray
Kosher salt
Directions:
Preheat the oven to 425˚ F. Line a baking sheet with a silicone mat or parchment paper.
In a large mixing bowl, combine the cream cheese, salsa, lime juice, spices, cilantro, green onions, chicken and shredded cheese. Mix thoroughly until well combined.
Place the tortillas on a plate and microwave for approximately 20 seconds to make them easier to handle. Place a tortilla on a work surface. Spoon 2-3 tablespoons of the filling mixture down the middle of the tortilla. Roll the tortilla up tightly around the filling. Place seam-side down on a baking sheet. Repeat with the remaining tortillas and filling, spacing the assembled taquitos evenly on the baking sheet. Spray the tops lightly with cooking spray and sprinkle with a pinch of kosher salt.
Bake 15-20 minutes, until crisp and golden brown. Serve with sour cream and salsa.
*Note: These work great as a freezable meal! Before baking, freeze the taquitos in a single layer on the baking sheet for 30-60 minutes. Transfer to a freezer-safe container or freezer bag. Bake straight from the freezer, adding a few additional minutes to the original baking time.