Farmhouse Vegetable Barley Soup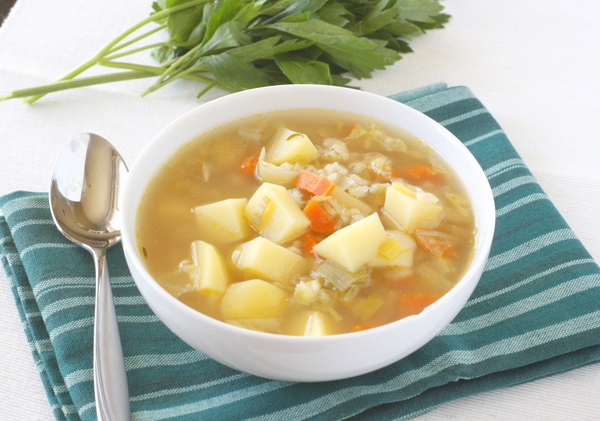 This Farmhouse Vegetable Barley Soup is a great recipe for the cooler weather we've been having. The flavor is rich and comforting, it's hearty and filling, and it tastes amazing reheated the second (or third!) day. I saw this recipe in the most recent Cook's Illustrated magazine and quickly realized that I had almost all of the ingredients on hand, thanks to my trusty CSA. I asked Mike if he cared if I made a vegetable barley soup for dinner (not normally his style), and he said he didn't care. I don't think he was listening.

I'm so glad I tried it because I know I'm going to be making this soup again and again. Unfortunately, Mike did not feel the same way. There was a little too much cabbage and a few too many leeks for his taste. But I didn't mind because it meant that I got to take it for lunch all week! This soup is full of flavor and incredibly healthy. It makes a lot of soup, but if you're anything like me, you won't have any trouble eating it all before it goes bad.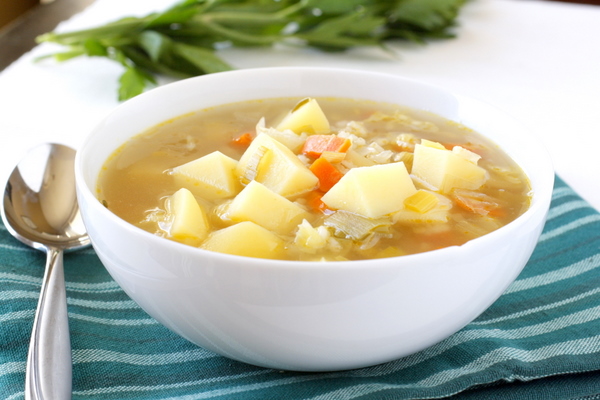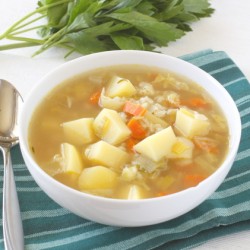 Farmhouse Vegetable Barley Soup
Ingredients:
1/8 ounce dried porcini mushrooms
8 sprigs fresh parsley plus 3 tablespoons chopped
4 sprigs fresh thyme
1 bay leaf
2 tablespoons unsalted butter
1 1/2 pounds leeks , white and light green parts sliced 1/2 inch thick and washed thoroughly
2 carrots , peeled and cut into 1/2-inch pieces
2 celery ribs , cut into 1/4-inch pieces
1/3 cup dry white wine
2 teaspoons soy sauce
Salt and pepper
6 cups water
4 cups low-sodium chicken broth or vegetable broth
1/2 cup pearl barley
1 garlic clove , peeled and smashed
1 1/2 pounds Yukon Gold potatoes , peeled and cut into 1/2-inch pieces
1 1/2 cups chopped green cabbage
1 teaspoon lemon juice
Directions:
Grind porcini with spice grinder until they resemble fine meal, 10 to 30 seconds. Measure out 2 teaspoons porcini powder; reserve remainder for other use. Using kitchen twine, tie together parsley sprigs, thyme, and bay leaf.
Melt butter in large Dutch oven over medium heat. Add leeks, carrots, celery, wine, soy sauce, and 2 teaspoons salt. Cook, stirring occasionally, until liquid has evaporated and celery is softened, about 10 minutes.
Add water, broth, barley, porcini powder, herb bundle, and garlic; increase heat to high and bring to boil. Reduce heat to medium-low and simmer, partially covered, for 25 minutes.
Add potatoes and cabbage; return to simmer and cook until barley, potatoes, and cabbage are tender, 18 to 20 minutes.
Remove pot from heat and remove herb bundle. Stir in lemon juice and chopped parsley; season with salt and pepper to taste.
from Cook's Illustrated, Nov. 2011