Skillet Baked Ziti with Sausage and Peppers
 This might be the perfect one-dish meal. It's warm, comforting, covered in cheese, and quick to prepare. I love traditional baked ziti, but this skillet version appealed to me for its simplicity and ease of clean-up – and it was a success on both counts. Mike and I both loved this meal, and it worked perfectly for a weeknight dinner. The sausage adds flavor and makes the dish very hearty and filling, and the peppers make you think this dish is at least the tiniest bit healthy (that is, if you can ignore the sausage, cheese, and heavy cream…). For being so quick and easy, this skillet baked ziti has a great fresh tomato flavor and I actually think it tastes better than the traditional casserole. This will definitely be making another appearance on our dinner table in the coming months!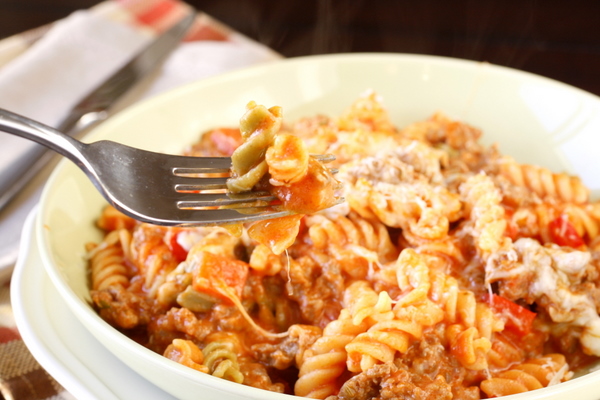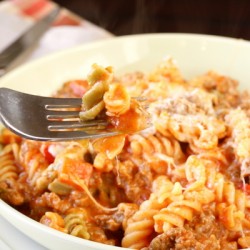 Skillet Baked Ziti with Sausage and Peppers
Ingredients:
1 (28-oz) can whole tomatoes
1 pound sweet Italian sausage, casings removed
6 medium garlic cloves, minced
1/4 tsp red pepper flakes
1 1/2 cups water
8 oz (2 1/2 cups) ziti
1 red bell pepper, seeded and chopped
Salt and Pepper
1/3 cup heavy cream
1 oz (1/2 cup) parmesan cheese, grated
1/4 cup choppped fresh basil leaves
6 ounces (1 1/2 cups) mozzarella cheese, shredded
Directions:
Adjust an oven rack to the middle position and heat the oven to 475 degrees. Pulse the tomatoes with their juice in a food processor until coarsely chopped and no large pieces remain, 6-8 pulses. Set aside.
Cook the sausage in a 12-inch ovensafe skillet over medium-high heat, breaking up the meat with a wooden spoon, until lightly browned, 3-5 minutes. Stir in the garlic and red pepper flakes and cook until fragrant, about 30 seconds. Stir in the processed tomatoes and simmer gently until the tomatoes no longer taste raw, about 10 minutes.
Stir in the water, ziti, bell pepper, and 1/2 tsp salt and bring to a rapid simmer. Cover and simmer vigorously, stirring often, until the pasta is just tender, 14-17 minutes.
Off the heat, stir in the cream, Parmesan, and basil an season with salt and pepper to taste. Sprinkle the mozzarella evenly over the top. Transfer the skillet to the oven and bake until the cheese has melted and browned, 10-15 minutes.