Quick and Easy White Chicken Chili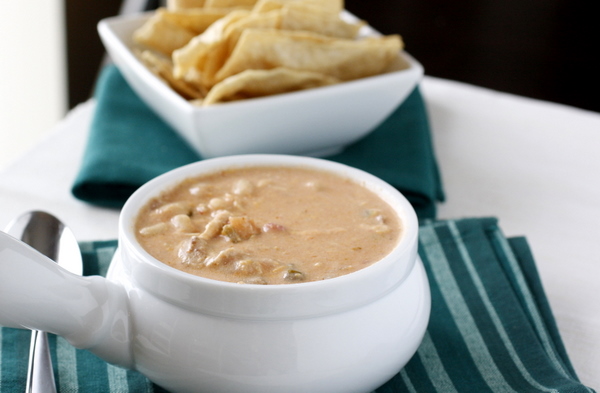 A few weeks ago we had a chili cook-off at my work. It was a ton of fun, and we got to eat lots of good chili. I think we had at least 16 entries, which means there were 16 different types of chili to try. I had a blast trying them out and voting for my favorites. You would think that with so many entries, it would be hard to pick a winner, but as it turns out there was one pot of chili that won by a landslide – my friend Lynn's white chicken chili. Not only did she have the most votes by far, but hers was the chili that nearly everyone was talking about as they left the cook-off. Of course I immediately asked her for the recipe and wasted no time in making it for a quick and easy weekend meal. 🙂
This chili is thick and creamy with a wonderful flavor. You can easily control the spice level by adjusting the seasonings or using a spicier or milder salsa.  The recipe comes together incredibly quickly and is very hands off. I certainly don't claim that it's the healthiest chili I've ever made, but occasionally, the taste is worth it. 🙂 Mike loved it as well, but he seemed to think it was more of a dip than a chili. We actually both ate it as more of a dip, with tortilla chips as dipping utensils – so good!  If you think it's too thick, you could easily thin it out with some chicken broth or even some water. Give this warm and comforting chili a try as the days get colder and let me know what you think!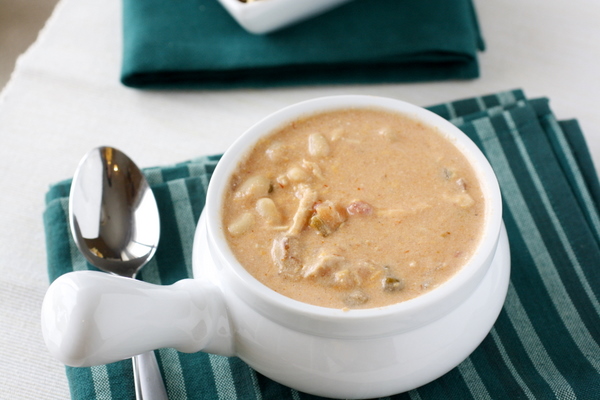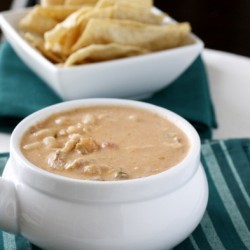 Quick and Easy White Chicken Chili
Ingredients:
1 jar salsa
1 16 oz container sour cream (low fat or fat-free is fine)
4 oz shredded cheese (I used sharp cheddar)
1 can great northern white beans
2-3 cups chopped cooked chicken
cumin, to taste (I started with 1 tsp and went from there)
garlic powder, to taste
pepper, to taste
Directions:
Combine all ingredients in crockpot and heat on low until warmed through.
Alternately, heat on the stovetop on medium until hot, stirring occasionally.
If too thick, thin with chicken broth or water.
Serve with tortilla chips.