Chocolate Covered Cookie Dough Pops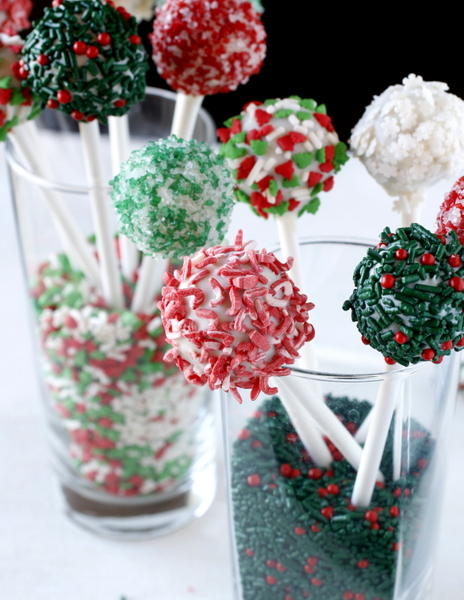 These Chocolate Covered Cookie Dough Pops just might be my favorite Christmas treats I've ever made. They're just so cute! And Christmas-y! Oh, and the fact that they are little balls of cookie dough, dipped in chocolate, and covered in sprinkles doesn't hurt either. 🙂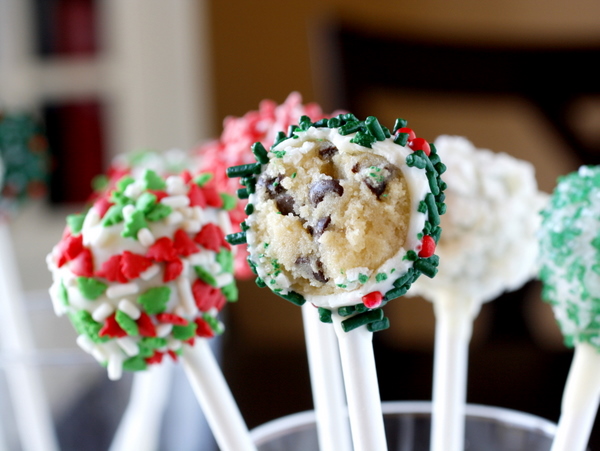 Even better, these are so easy to make.  I got the idea from Kevin and Amanda and the cookie dough center is actual cookie dough, but with 2 Tbsp of milk substituted for each egg so they're safe to eat. They taste exactly like the cookie dough you swipe from the bowl as you're baking cookies.
I used a plethora of Christmas sprinkles to decorate, but these are easily customizable and feel free to decorate however you want. I think that drizzled chocolate on top would be cute, or you could dip them in white chocolate, then draw snowman faces with icing. So many ideas!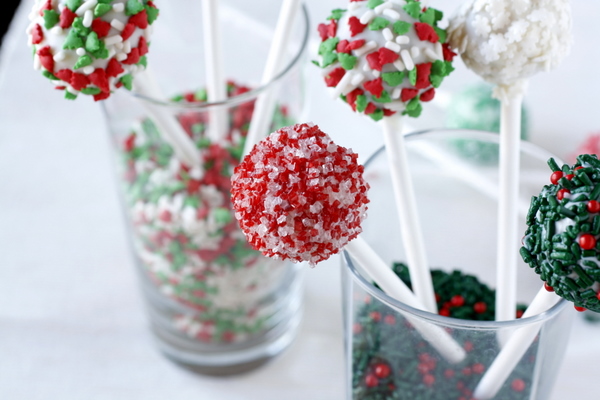 Clearly I was a little sprinkle obsessed and had a great time decorating these treats. What I won't show you is a picture of my counter absolutely covered in sprinkles. As I mentioned  last week, I also won't be talking about how much money I spent on Christmas sprinkles at the grocery store, or how many little sugary bits Scamp ate off the floor as I decorated these. 🙂
These were a blast to make, very simple to decorate, ridiculously cute, and of course, delicious. Give these a try this year for Christmas and I guarantee they'll be a hit. 🙂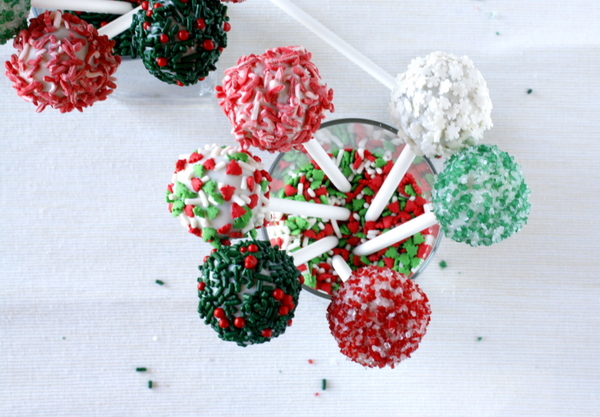 P.S. You can see all of my Christmas treat recipes from over the years at this Christmas Cookies tag. Enjoy! And, as always, let me know if you try any and how you liked them.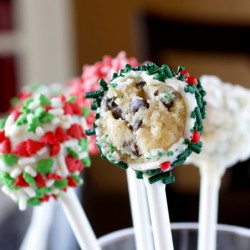 Chocolate Covered Cookie Dough Pops
Ingredients:
2 1/4 cups all purpose flour
1 tsp baking soda
1 tsp salt
1 cup (2 sticks) butter, softened
3/4 cup granulated sugar
3/4 cup packed brown sugar
1 tsp vanilla extract
4 Tbsp milk
2 cups mini chocolate chips
chocolate, for dipping. (I used vanilla candy melts)
Directions:
Combine flour, baking soda and salt in a small bowl and set aside. Beat butter, granulated sugar, brown sugar and vanilla in a large mixing bowl until creamy. Beat in milk. Gradually beat in flour mixture. Stir in chocolate chips.
Roll into small balls and refrigerate until firm. If using lollipop sticks to dip, add the sticks before refrigerating.
Carefully melt the chocolate in the microwave, stirring until smooth. Using a lollipop stick or a toothpick, dip the cookie dough balls in the chocolate then cover with sprinkles.
Stand upright until chocolate is dry or place on waxed paper.