Caramel Pecan Turtle Clusters
You will love these caramel pecan turtle clusters – toasted pecans topped with caramel and two types of chocolate!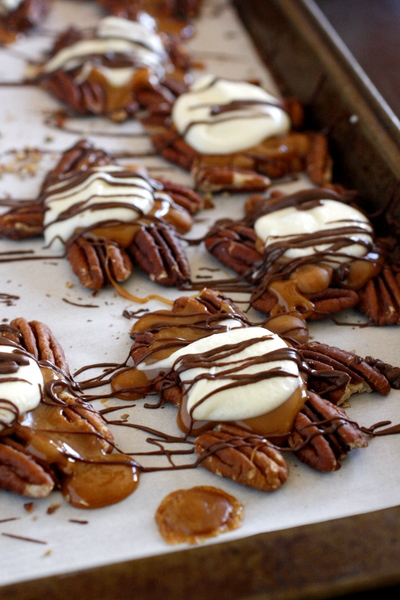 Don't these turtle candies look delicious! There is just something about crunchy toasted pecans, gooey caramel, and melted chocolate that is irresistible.
This is an easy version of an old traditional recipe. I love making recipes like this at home because you can customize it to your own tastes. Plus don't they look nice and fancy to set out for guests??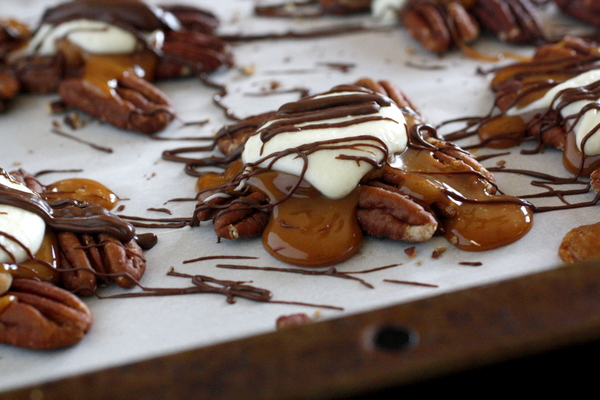 I skipped the homemade caramel and opted for melting Kraft caramel baking bits to save a little time and effort. I also used white chocolate to top the candies and added just a drizzle of the traditional milk chocolate. I think the white chocolate makes them look a little extra special and gives them an added dose of sweetness.
The end result was so good that it was hard to stop eating them! I ended up giving half away just to make sure we didn't eat all of them ourselves. 🙂
These caramel pecan turtle clusters are the perfect candy if you want to impress your guests (or gift recipients!) but don't want to spend a lot of time in the kitchen. You will love them!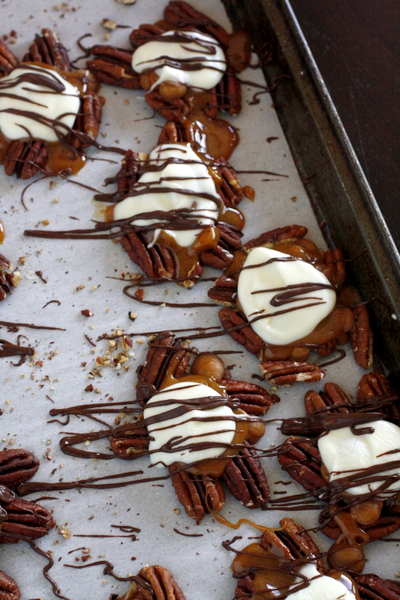 Caramel Pecan Turtle Clusters are day 10 of the 12 Days of Christmas Treats! I will post a new cookie every day for the first 12 days of December. You can see all these recipes from over the years under my Christmas Cookies tag. 🙂 See all of this year's cookies here: 12 Days of Christmas Treats 2015. Enjoy! And, as always, let me know if you try any and how you liked them.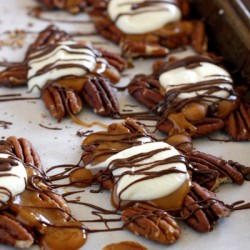 Caramel Pecan Turtle Clusters
Toasted pecans topped with caramel and two types of chocolate!
Ingredients:
1 heaping cup of pecan halves
6 oz Kraft caramel bits
1 cup white chocolate melting wafers (I used ghirardelli melting wafers)
1/4 cup milk chocolate chips
Directions:
Preheat oven to 350 degrees F. Line a rimmed baking sheet with parchment paper and arrange pecans in a single layer. Bake for 8 to 10 minutes, or until lightly toasted. Allow to cool, then arrange them into 16 clusters on the pan.
Melt the caramel bits according to package directions, then top each pecan cluster with a spoon of warm caramel. Allow to cool until caramel is set.
Melt the white chocolate. I prefer to use a double boiler, but you could also melt in the microwave on 50% power, stirring every 30 seconds. Spoon the melted white chocolate over top of the caramel. Allow to set.
Melt the milk chocolate chips and drizzle on top of the clusters.