Lasagna Soup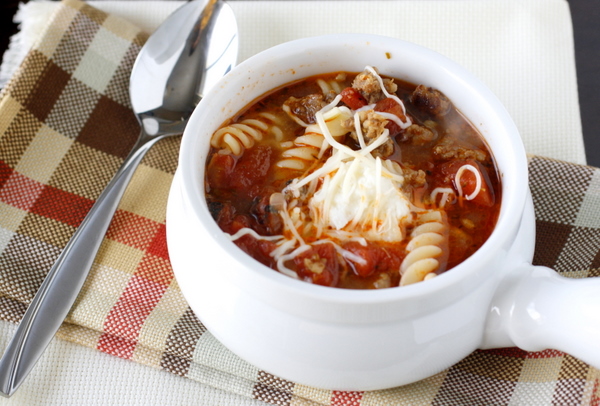 I have so many soup recipes to share with you right now. I'm trying to do one a week so that I don't overwhelm you with soup. But really, is there any better meal in the middle of cold and dreary January than a hot and comforting bowl of soup?  This recipe for Lasagna Soup really stands out as a comforting meal that will cheer up any Winter day. It's spicy and hearty, and really does taste like lasagna in soup form. It's full of sausage, tomatoes and pasta, but the best part has to be the combination of ricotta, mozzarella and parmesan cheese that makes up the gooey  and cheesy portion of this soup. You mix all the cheeses together, spoon some in a bowl, then ladle the hot soup on top. The end result is warm, melty, cheesy goodness in every bite. Please try this soup and let me know what you think. We absolutely loved it!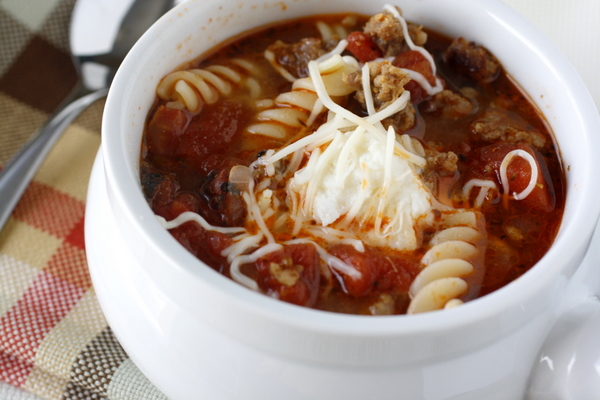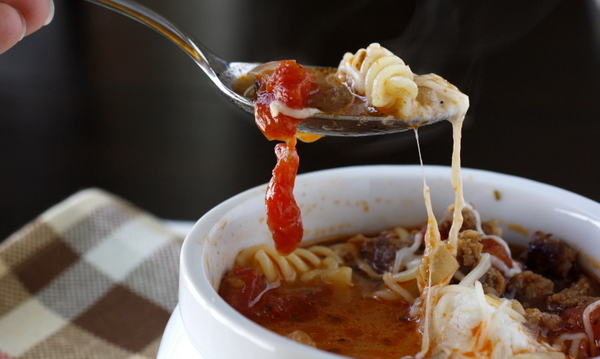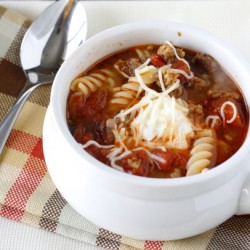 Lasagna Soup
Ingredients:
1 lb. Italian sausage
1 large onion, chopped
4 garlic cloves, minced
2 tsp. dried oregano
1/2 tsp. crushed red pepper flakes
2 Tbsp tomato paste
1 28-oz. can fire roasted diced tomatoes
2 bay leaves
6 cups chicken stock
8 oz. fusilli pasta, or a similar shape
1/2 c. finely chopped fresh basil leaves
salt and freshly ground black pepper, to taste
8 oz. ricotta
1/2 c. grated Parmesan cheese
1/4 tsp. salt
pinch of pepper
2 c. shredded mozzarella cheese
Directions:
Heat a large soup pot over medium heat. Add the sausage, stirring to break up into pieces, and cook until browned, about 5 minutes. Add onions and cook about 6 minutes, or until onions are softened. Stir in the garlic, oregano, red pepper flakes and tomato paste. Cook until the tomato paste turns a rusty brown color, about 3-4 minutes.
Stir in the tomatoes, bay leaves, and chicken stock. Bring to a boil, then reduce the heat and simmer for 30 minutes. Add the uncooked pasta and continue to simmer until the pasta is al dente. Be careful that the pasta does not get mushy. Stir in basil and season to taste with salt and pepper.
In a separate bowl, mix together the the ricotta, Parmesan, 1/4 tsp salt, and pinch of pepper. Place a spoonful of the cheese mixture in each bowl, sprinkle some mozzarella on top, then ladle the hot soup into the bowls. Enjoy!