Tortellini and Vegetable Soup
This is a great soup for the start of a new year. It's not only delicious, but fresh and healthy and full of vegetables. As I was leafing through some new cookbooks on New Year's Day, this vegetable filled soup is the recipe that jumped out at me. I took that as a sign that I had eaten too much junk food and resolved to cook healthy meals for awhile. And with this soup as my first one, it doesn't even feel like a sacrifice. It took about 30 minutes to put together, and it's a nice hot meal for the middle of winter. The vegetables taste nice and fresh, and the addition of the tortellini really makes the soup – they're hot and cheesy and take on the delicious flavor of the broth. If you are willing to make a little extra effort, grate the parmesan cheese yourself – you'll notice the difference. I was actually surprised at how much Mike liked this meal. It wasn't his favorite, but he liked it a lot more than I expected (the tortellini more than the vegetables) and rated it a 3.65 (he couldn't decide between a 3.5 and a 3.75 rating).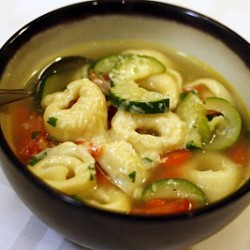 Tortellini and Vegetable Soup
Ingredients:
2 Tbsp olive oil
2 carrots, halved lengthwise and thinly sliced
2 stalks of celery, halved lengthwise and thinly sliced
2 small zucchini, halved lengthwise and thinly sliced
salt and pepper
6 cups chicken or vegetable stock
1 lb fresh or frozen cheese tortellini *
2 plum or roma tomatoes, chopped
1/4 cup fresh flat-leaf (Italian) parsley, chopped
1/4 cup freshly grated parmesan cheese
Directions:
In a large saucepan over medium-high heat, warm the 2 tablespoons of oil. Add the carrots, celery, and zucchini and saute until softened, about 5 minutes. Season with salt and pepper. Stir in the broth and bring to a boil. Add the tortellini and cook for 5 minutes, or according to the package directions. Remove from the heat. Stir in the tomatoes and parsley and season to taste with salt and pepper. Ladle the soup into bowls, drizzle with olive oil, sprinkle with cheese, and serve.
*I used a bag of frozen tortellini that was 1lb, 3 oz. I just added it all in with a little extra chicken stock.
from the Williams Sonoma One Pot Cookbook