Strawberry Pretzel Dessert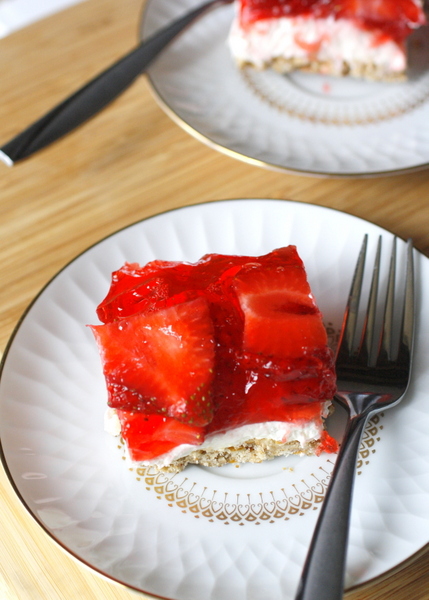 This is one of my favorite desserts of all time. Growing up, it was a staple at all of our family picnics. Strawberry pretzel dessert always makes me think of summertime cookouts and family gatherings. I even had this dessert at my bridal shower! This is a wonderful combination of salty and sweet – the crunchy pretzel crust, the sweet cream cheese layer, and the strawberry jell-o all come together to create a mouthwatering treat. This is a great dish for cook-outs and picnics. Plus, it's usually classified as a jell-o salad rather than a dessert, which just means you can eat more of it. 🙂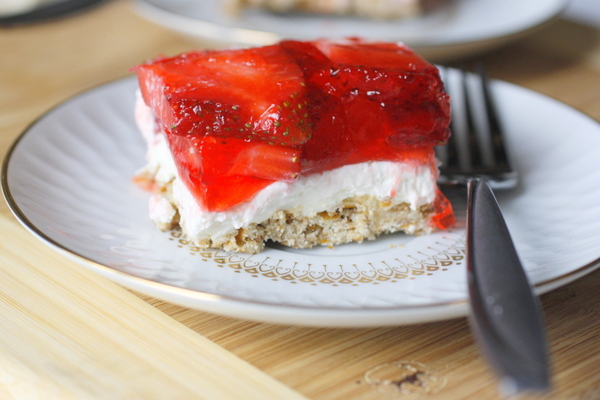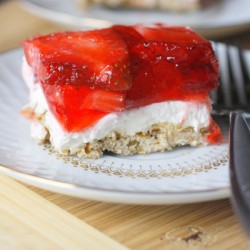 Strawberry Pretzel Dessert
Ingredients:
2 cups finely crushed pretzels
1/2 cup sugar, divided
2/3 cup butter, melted
1-1/2 pkg. (8 oz. each) cream cheese, softened
2 Tbsp. milk
1 cup thawed cool whip
2 cups boiling water
1 box (6 oz.) strawberry jell-o
1-1/2 cups cold water
4 cups fresh strawberries, sliced
Directions:
Pre-heat oven to 350°F. In a medium sized bowl, mix together the pretzel crumbs, 1/4 cup sugar and the melted butter. Press onto the bottom of 13x9-inch pan and bake for 10 min. Cool completely.
In a large bowl, beat together the cream cheese, remaining sugar and milk until blended. Stir in the cool whip. Spread the mixture over the crust and refrigerate.
In a large bowl, add boiling water to the jell-o mix and stir 2 min, or until completely dissolved. Stir in cold water. Refrigerate 1-1/2 hours or until thickened. Stir the berries into gelatin, then spoon over the cream cheese layer. Refrigerate 3 hours or until firm.