Oatmeal Chocolate Chip Bars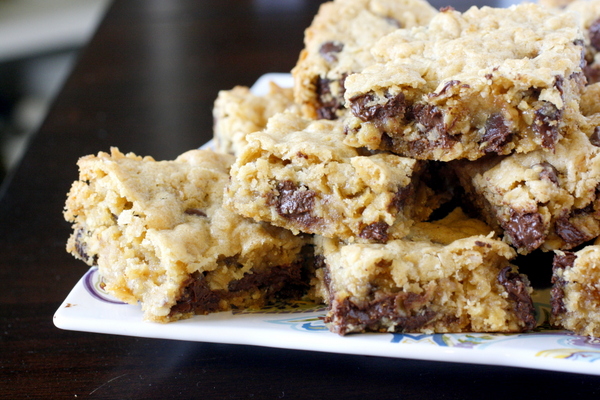 I have been really into the easy bar cookies recently. Between making a few meals for friends in our church, and taking treats to work for coworkers' birthdays, the quick and easy recipes have been a big help. (Note: if you're looking for other ones try these chewy peanut butter brownies and these marble blondies). These oatmeal chocolate chip bars are no exception. They are so fast to throw together, and the bars are delicious. They are thick and chewy and taste like a traditional oatmeal chocolate chip cookie, but with half the work. I took these to work last week and everyone loved them. Normally there is a longer lead time between when I make a recipe and when I post it on the blog, but these were so good that I had people requesting that I post them right away! So here you go – next time you need cookies in a hurry, give this recipe a try. 🙂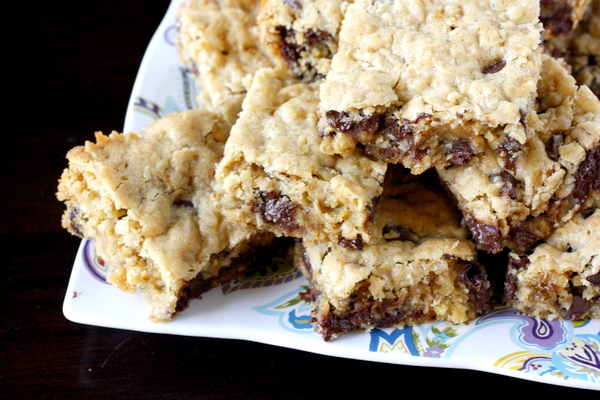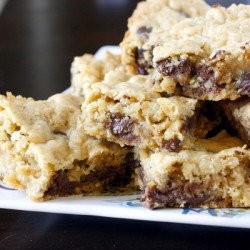 Oatmeal Chocolate Chip Bars
Ingredients:
1 cup unsalted butter, at room temperature
1 1/4 cups brown sugar
3/4 cup white sugar
2 eggs
1 tsp vanilla
2 cups flour
2 tsp baking powder
1/2 tsp salt
2 cups quick-cooking or old fashioned oats
1 1/2 cups chocolate chips
Directions:
Preheat the oven to 375. In a mixing bowl, cream together the butter, sugars, eggs and vanilla. In a separate bowl, combine the flour, baking powder and salt. Gradually add the flour mixture to the mixing bowl and beat just until combined. Fold in the oats and chocolate chips. Spread in a rimmed 10x15 baking pan, using a spatula or your hands to press into place. Bake for 20 minutes, or until golden brown. Cool, but cut the bars while they are still somewhat warm, as a knife will go through them more easily.
*Note: I halved this recipe and baked it in a square 9x9 pan and it turned out perfectly. I think you could do a 9x13 pan with the full recipe, they will just be very thick (which isn't a bad thing!) and you will have to increase the baking time. I haven't tried these in the 10x15 pan so I can't say for sure how thick they turn out.
from the Penzeys Spice Catalog