Orange Creamsicle Cupcakes
I can't get enough of these orange creamsicle cupcakes. I don't know why I am surprised, but they really do taste just like a creamsicle. They are light and moist with that perfect orange cream flavor that makes you think of Summer. The cupcakes themselves are lightly orange flavored, and the icing is an orange flavored cream cheese icing. The combination is just perfect together.
I made these cupcakes for Mike's birthday last week. He loves to take treats in to his coworkers, so I knew I had to come up with something exciting for his birthday. I ran across these on Pinterest and it was perfect timing. Mike loves anything orange flavored – even better if it's orange cream. In college, he used to mix orange soda and vanilla ice cream in the cafeteria to make his own creamsicle floats, so I knew these would be a big hit. And they were! I hope you get to try them before Summer is over – you will love them! 🙂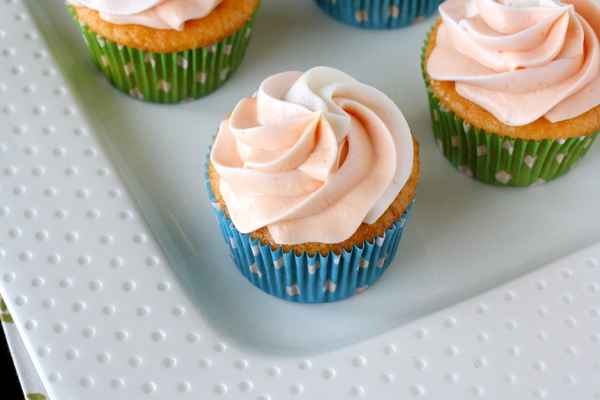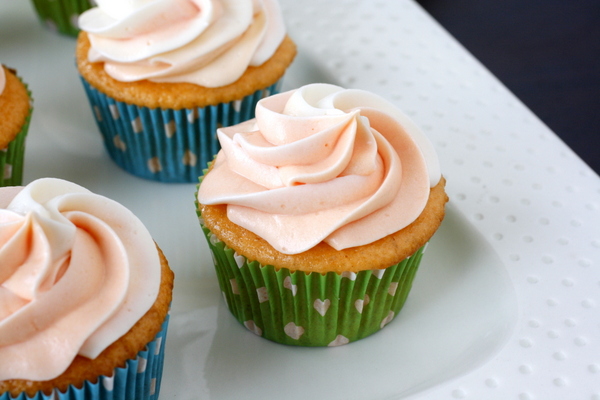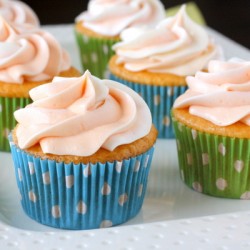 Orange Creamsicle Cupcakes
Ingredients:
Cake:
1 package white cake mix
1 (4 serving size) package cheesecake instant pudding mix
1 (3 oz.) package orange flavored Jello
1 1/4 cups orange juice
4 eggs
1/3 cup vegetable oil
1 teaspoon vanilla extract
Frosting:
1 8 oz. package cream cheese, softened
1/2 cup butter, softened
6 cups powdered sugar
1 teaspoon orange extract
1 teaspoon vanilla extract
2-4 Tbsp heavy whipping cream
orange food coloring
Directions:
For the cake: Heat oven to 350 degrees. Line 24 cupcake tins with paper liners. Combine all ingredients in the bowl of an electric mixer. Beat until well mixed. Pour batter into liners, filling each 2/3 full. Bake for 18-20 minutes. Cool in pan 5 minutes, then transfer to a wire rack to cool completely.
For the frosting: In a large mixing bowl, beat cream cheese, butter, orange extract and vanilla. Gradually add powdered sugar, beating until smooth and creamy. Add the cream in small increments, until the frosting in the consistency you want. To get swirled frosting, tint half of the frosting orange in a separate bowl. With your pipig bag tiled on its side, fill one side of the bag with the orange frosting, then tilt the bag the other way and fill the other side with the white frosting. It doesn't have to be perfect - it should still swirl once you start piping.