Pasta with Zucchini, Tomatoes, Bacon, and Feta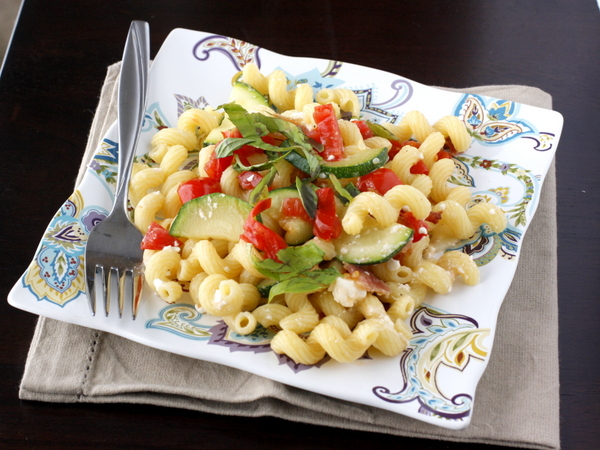 I love simple pasta dishes like this one. In my mind you can't go wrong with pasta, vegetables, and a little olive oil and cheese for flavor. Add in some bacon and you've got a great meal. This dish is quick to throw together and tastes nice and fresh.  I used diced roma tomatoes from my garden instead of the grape tomatoes called for in the recipe, but they kind of disintegrated, so I'd go with the grape tomatoes next time. The feta and bacon added a lot of flavor to this recipe, so don't skimp on either. Mike wasn't a huge fan of this dish simply because of the feta, but I loved it. Sometimes a simple pasta dish makes the perfect dinner.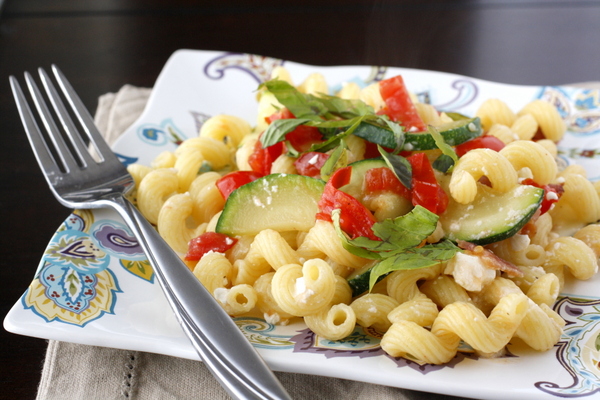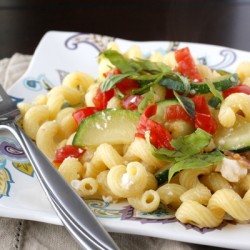 Pasta with Zucchini, Tomatoes, Bacon, and Feta
Ingredients:
3/4 pound cavatappi or some other short pasta
4 slices bacon
1 tablespoon olive oil
2 medium zucchini (about 1 pound), halved lengthwise and thinly sliced
kosher salt and black pepper
1 pint grape tomatoes
4 ounces Feta, crumbled (about 3/4 cup)
1/2 cup fresh basil leaves
Directions:
Cook the pasta according to the package directions. Reserve ½ cup of the cooking water; drain the pasta and return it to the pot.
Meanwhile, cook the bacon in a large skillet over medium heat until crisp, 5 to 7 minutes. Let cool, then break into small pieces. Add the oil, zucchini, ½ teaspoon salt, and ¼ teaspoon pepper to the drippings in the skillet and cook, tossing occasionally, until tender, 4 to 6 minutes.
Add the zucchini, tomatoes, and cooking water to the pasta and cook over medium heat, tossing, until the tomatoes soften slightly, 2 to 3 minutes. Add the Feta and bacon and toss to combine. Serve sprinkled with the basil.
from Real Simple, August 2012