Chicken Sausage and Broccoli Packets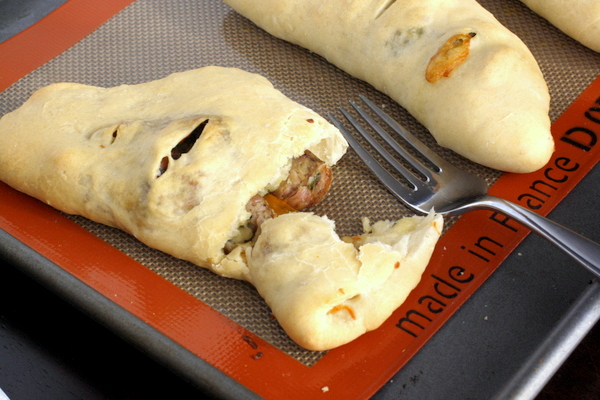 I've got nothing but good things to say about these packets of cheesy goodness. They're easy to make, they taste great, and they make the perfect make-ahead meal! We love chicken sausage around here, so combining that with some roasted broccoli (another favorite!) and cheese is pretty much a guaranteed success. Then stuff all of that inside a crispy pizza dough shell, and you've got one of our new favorite meals. I love that you can make these ahead of time, freeze them, then bake them straight from the freezer. I'm pretty sure these chicken sausage and broccoli packets are going to be a new "busy weeknight" staple!
p.s. Check out that beautiful silpat baking liner they're on – giveaway coming Wednesday, so check back for a chance to win your own! 🙂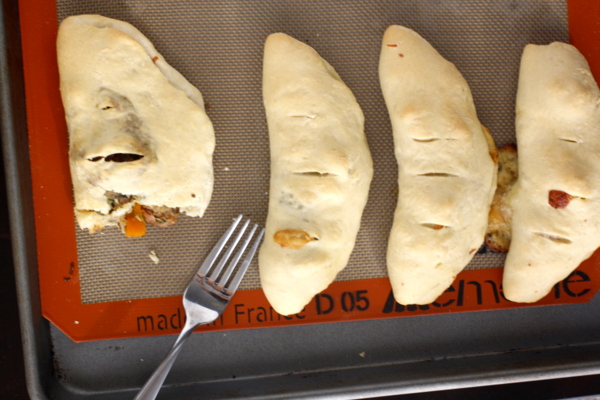 Chicken Sausage and Broccoli Packets
Ingredients:
1 12-oz package fully cooked chicken sausage links, thinly sliced
1 bunch broccoli (about 1 pound), cut into small florets
1 bell pepper, cut into 3/4-inch pieces
2 cloves garlic, thinly sliced
2 Tbsp olive oil
Kosher salt and black pepper
8 oz provolone, grated (about 2 cups)
1 1/2 pounds pizza dough, at room temperature
Directions:
Heat oven to 425. On a large rimmed baking sheet, toss the sausage, broccoli, bell pepper, and garlic with the oil, 1/2 tsp salt, and 1/4 tsp black pepper. Roast, tossing once, until the broccoli is tender, 25-30 minutes. Let cool, then transfer to a medium bowl, add the provolone, and toss to combine.
Divide the dough into 8 pieces. On a large, lightly floured surface, roll and stretch each piece into a 7-inch circle. Dividing evenly, spoon the broccoli mixture onto one side of each round (about 1/2 cup each), leaving 1/2 inch border. Dot the border with water, fold the dough over to form a semicircle, and press firmly to seal. Place the pockets on a parchment-lined large baking sheet and cut several slits in each.
Bake the pockets at 425 until golden brown, 20-25 minutes.
*To freeze and serve later, freeze the unbaked pockets on the baking sheet until firm, then transfer to a freezer bag and freeze up to 3 months. To bake, place frozen pockets on a parchment-lined baking sheet and bake at 425 for 25-30 minutes.
From Real Simple Family 2012