Chicken, Roasted Poblano, and Corn Quesadillas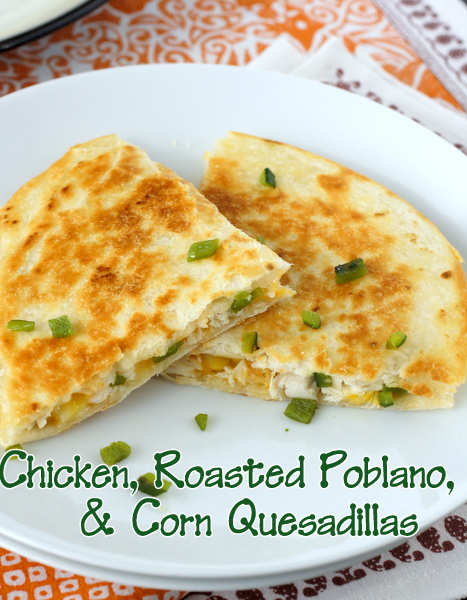 In my mind, you can't go wrong with quesadillas. Or really anything that's filled with melted cheese for that matter. We used to eat quesadillas all the time, but I've sort of forgotten about them recently. Then I ran across a recipe for these chicken, roasted poblano, and corn quesadillas and I made them as soon as I could.
The roasted poblano gives the quesadilla a slight spicy kick, but the corn mellows it out a little. Combine both with cheese and chicken, and you've got a nice filling and flavorful meal. Plus the whole thing is lightly fried in a little bit of oil, giving it a satisfying crunch.
Afterwards, I thought that these would be even better with the addition of some lime juice and cilantro (my go-to additions to any Mexican meal), but either way, these are sure to be a hit.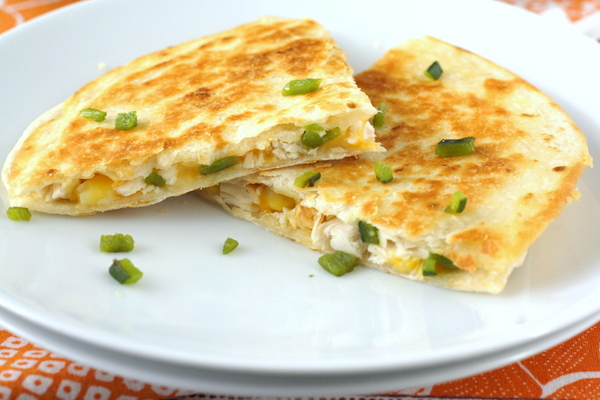 Other great quesadillas I've made include chicken and spinach, barbecue chicken and pineapple, and grilled vegetable!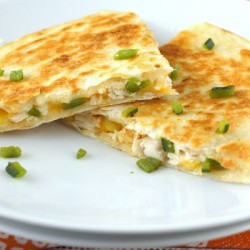 Chicken, Roasted Poblano, and Corn Quesadillas
Ingredients:
1 large poblano pepper
olive oil for oiling the pan
8 small (6-inch) flour tortillas
1 cup shredded Monterey Jack cheese
1 cup shredded cooked chicken
1 cup frozen corn kernels, thawed
Sour cream and salsa for serving
Directions:
Roast the poblano pepper using either a gas burner, grill, or the broiler. Let cool and remove the skin. Thinly slice the pepper.
Preheat the oven to 200. Lightly oil a cast-iron skillet or griddle with olive oil. Heat the skillet over medium-high heat. Place 1 tortilla on the hot surface. Evenly sprinkle with 1/4 cup of the cheese, 1/4 cup of shredded chicken, 1/4 cup of corn and 1/4 of the sliced peppers. Cover with another torilla and cook until golden brown on the bottom and the cheese has started to melt, 2-3 minutes.
Using a flat spatula, carefully turn the quesadilla over and cook until the other side is lightly browned, 1-2 minutes.
Transfer the quesadilla to a baking sheet and place in the oven to keep warm.
Repeat with remaining quesadillas, adding more oil to the pan if necessary. Serve with salsa and sour cream.
*Note: I haven't tried it, but I think that lime and cilantro would be great in this!