Barbecue Beef Sandwiches
This is one of those recipes that I saw in a magazine and immediately added the ingredients to my grocery list. We love sandwiches like this, and these barbecue beef sandwiches were no exception. The recipe is easy – just coat the meat in seasonings and cook for hours in the oven. You've got to love hands off recipes like that! Plus the flavor of the meat was so good. I couldn't stop eating it before I even added the barbecue sauce! If you were serving this just as a roast, I think you could serve it plain, but the barbecue sauce is a really nice addition if you're making sandwiches – it gives it that extra punch of flavor. Needless to say, Mike loved this meal – he got a huge grin on his face when I told him what was for dinner. And then his smile got even bigger after I told him we'd be eating leftovers for days.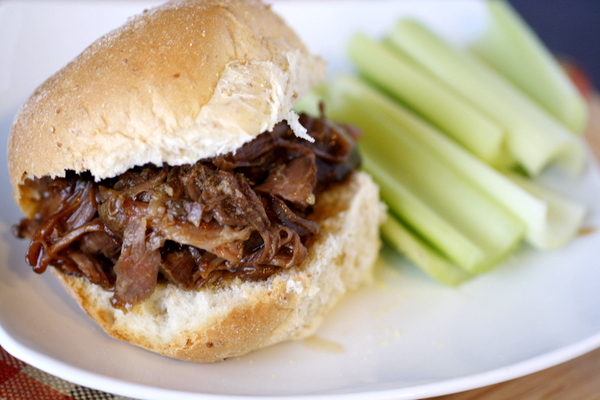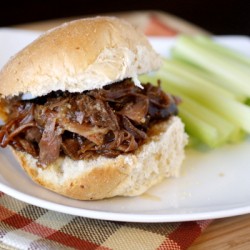 Barbecue Beef Sandwiches
Ingredients:
1 4-lb top round beef roast (*I used some type of random chuck roast because I had one in the freezer)
2 Tbsp olive oil
1-3 Tbsp your favorite steak seasoning or rub (original recipe recommended Penzey's Galena Street, I used a random packet of steak seasoning I got as a sample)
6-10 whole garlic cloves, peeled
2 cups cranberry juice
1 16-oz bottle barbecue sauce
Directions:
Rinse the beef roast and pat dry. Drizzle with the olive oil. Sprinkle with the seasoning and rub into the meat on all sides. Wrap in plastic wrap and refrigerate for at least 1 hour.
Preheat oven to 325. Using a sharp knife, cut 6-10 slits in the beef roast. Insert the garlic cloves in the slits. Place in a large roasting pan or dutch oven. Pour the cranberry juice over the roast. Cover and bake at 325 for 4 hours. Remove from the oven and let rest for 30 minutes. Shred the roast into pieces and mix with the pan juices and barbecue sauce. (*I didn't quite use all of the juice or all of the barbecue sauce) Serve on rolls.