Homemade Pretzel Dogs
I've been dreaming of homemade pretzel dogs for at least a month now. Mike and I grabbed a couple pretzel dogs from a stand in the mall one day while we were out doing some Christmas shopping, and all of a sudden it hit me – Hey, I could make these myself! It took me awhile to get around to it, but these homemade pretzel dogs were definitely worth the wait. The concept is pretty simple – just pretzel dough wrapped around a hot dog, but the end result is so good! Especially when eaten fresh out of the oven.
If you are a soft pretzel fan, you will love these. And please don't be intimidated by making a yeast dough. This dough comes together very easily and is super soft and easy to work with. Once you wrap the dough around the hot dog, all it takes is a quick baking soda boil and a short bake in the oven, and you've got delicious homemade pretzel dogs ready to eat. You could even cut the hot dogs in half and make mini versions. How cute would that be? I hope you try this one – we loved it!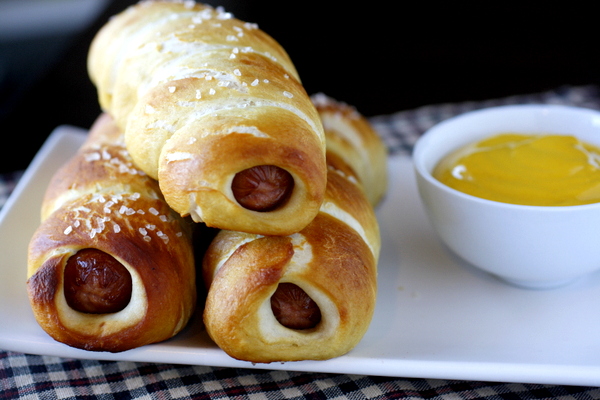 If you're like me, the only thing better than one soft pretzel recipe is more soft pretzel recipes, so be sure to check these out as well! Homemade Soft Pretzels : Soft Pretzel Bites : Ham and Cheddar Stuffed Pretzel Calzones : Pretzel Rolls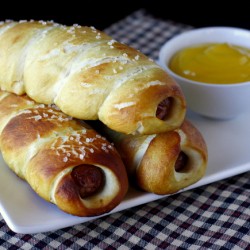 Homemade Pretzel Dogs
Yield: 8 pretzel dogs
Prep Time: 1 hour 30 min
Cook Time: 15 min
Total Time: 1 hour 45 min
Ingredients:
1½ cups warm (110 to 115 degrees F) water
1 tablespoon granulated sugar
2 teaspoons kosher salt
1 package (2¼ teaspoons) active dry yeast
4½ cups all-purpose flour
¼ cup unsalted butter, melted
Vegetable oil, for pan
10 cups water
2/3 cup baking soda
2 tablespoons unsalted butter, melted
Coarse Sea salt, for sprinkling
Directions:
Combine the water, sugar and yeast in the bowl of a stand mixer. Let sit for 5 minutes or until the mixture begins to foam.
Add the flour, salt, and butter. Mix with the dough hook on low speed until well combined. Change to medium speed and knead until the dough is smooth and pulls away from the side of the bowl, approximately 4 to 5 minutes. Transfer the dough to a clean, lightly oiled bowl. Cover and let rise for about 1 hour, or until the dough has doubled in size.
Preheat the oven to 450. Line 2 baking sheets with parchment paper and lightly brush with the vegetable oil. Set aside. In a large pot, bring the 10 cups of water and the baking soda to a rolling boil.
Meanwhile, turn the dough out onto a slightly oiled work surface and divide into 8 equal pieces. Roll out each piece of dough into a rope that's about 24-inches long. Starting at one end, wrap the dough around the hot dog, pinching each end together so that it's sealed. Place onto the pan and repeat with the remaining dough and hot dogs.
Place the pretzel dogs into the boiling water two at a time and boil for 30 seconds. Remove them from the water using a large flat slotted spatula. Return the boiled pretzel dogs to the pan, brush the tops with melted butter and sprinkle with the sea salt. Bake until dark golden brown in color, approximately 12 to 14 minutes. Transfer to a cooling rack for at least 5 minutes before serving.
linked to I'm lovin' it