Winter Vegetable Soup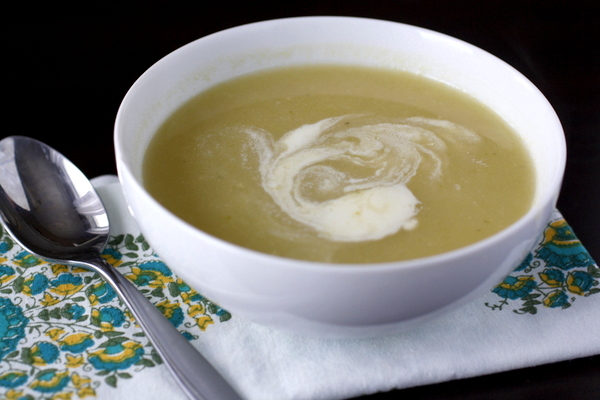 If you've been following along on Facebook, you may be aware that I received a new French Farmhouse cookbook for Christmas. I have to thank my sister-in-law for this gift, because I'm somewhat obsessed with it. I don't normally read through cookbooks like novels, but I keep picking this one up and flipping through the pages. There is just so much interesting information about various ingredients and the author's travels through France.  And after the success of this winter vegetable soup, I can tell you I'll be making plenty of recipes out of it!
I was a little intimidated by this recipe to begin with. It's incredibly easy to make – chop vegetables, cover with water, cook. But, the actual vegetables are not ones I normally cook with – rutabagas, celery root, Jerusalem artichokes. (For those who, like me, need to wikipedia that last one, it's a root vegetable, also called a sunchoke). However, I dutifully raided the vegetable section at my local grocery store, managed to find everything except the Jerusalem artichoke, and set to work. And let me tell you, this soup is wonderful! I seriously can't figure out why it's so good, but we couldn't get enough of it. Even Mike loved it, and I guarantee if I'd told him what was in it, he would not have wanted to eat it. It's light and fresh and flavorful, and once you stir in some creme fraiche (don't worry, I included a recipe!), it becomes just the slightest bit creamy. Please make this – and then report back and tell me how in the world it tastes so good!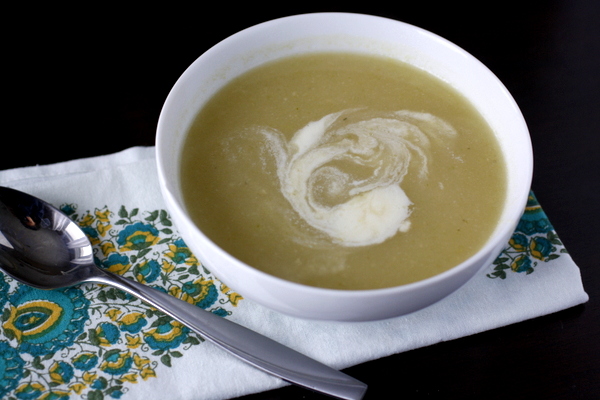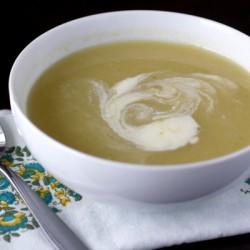 Winter Vegetable Soup
Ingredients:
1 small celery root, trimmed, peeled, and finely chopped
1/2 rutabaga, trimmed, peeled, and finely chopped
2 medium Jerusalem artichokes, peeled and finely chopped
3 small russet-type potatoes, peeled and finely chopped
5 medium leeks, white part and 1 inch of green, well rinsed and finely chopped
3 stems parsley
2 bay leaves
1 green leek leaf
8 fresh thyme sprigs
sea salt
freshly ground black pepper
6-8 Tbsp creme Fraiche (recipe below)
Creme Fraiche:
1 cup heavy cream
1 1/2 Tablespoons buttermilk
Directions:
Place all the celery root, rutabaga, artichokes, potatoes and leeks in a large stockpot and add enough water to cover by 1 inch. Use cheesecloth to make a bouquet garni with the parsley, bay leaves, leek leaf and thyme. Add to the pot. Add 1 tsp salt, cover, and bring to a boil. Reduce the heat to medium and simmer until the vegetables are very soft, about 1 1/2 hours.
Remove the bouquet garni and puree the soup. Adjust the seasoning, adding pepper to taste. Stir in the creme fraiche when ready to serve, approximately 1 Tbsp per serving.
For the creme fraiche: Whisk the cream and buttermilk together in a medium-sized bowl. Cover with a tea towel and let stand in a warm spot until it starts to thicken, 8-12 hours. Cover and refrigerate for several hours until thickened. Store tightly covered in the refrigerator for up to 1 week.
*Links are Amazon affiliates