Basil Butter Garlic Bread
Every year I grow basil in a pot on my deck, and every year by the middle of summer I've managed to kill it.  I always have grand plans of making pesto and freezing it, but it never seems to happen. Now, however I have another reason to keep that basil plant alive – this basil butter garlic bread!  It turns out that when butter is combined with fresh herbs and garlic, slathered on French bread and toasted in the oven, it's pretty amazing. Add in a little melted parmesan cheese on top and it's more than amazing. I actually had some leftover basil butter in the fridge after making this that I used it to butter some fresh, warm-out-of-the-oven bread, and it's safe to say that basil butter is pretty delicious no matter how you eat it.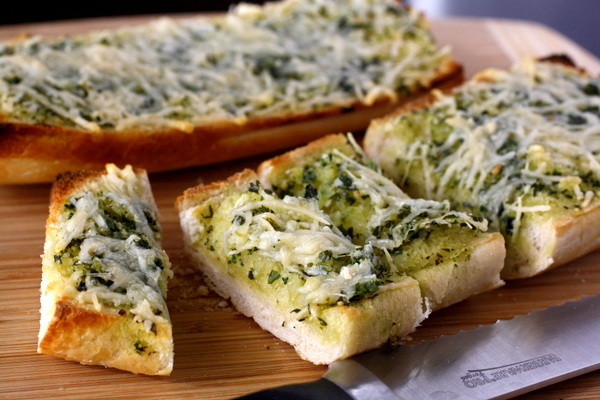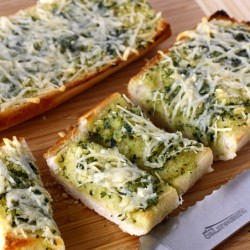 Basil Butter Garlic Bread
Ingredients:
4 Tbsp unsalted butter
2 Tbsp Olive Oil
1 bunch Basil (a generous Handful)
1 bunch Parsley (use 1/3 Of The Amount Of Basil)
2 cloves Garlic
1 whole Green Onion
Salt and Pepper, to taste
1 loaf Ciabatta Or French Bread
1-2 cups Grated Parmesan Cheese
Directions:
Preheat the oven to 400ºF.
Combine all the ingredients except the bread and cheese in a food processor, and process until smooth. Season with salt and pepper to taste.
Cut open the loaf of bread and spread both halves with the basil butter. Put the halves together and wrap in aluminum foil. Bake for 10 minutes.
Remove the bread, separate the halves and add the Parmesan cheese. Return them to the oven and change the tempereature to 500ºF. (You could also put them under the broiler.) Cook until the cheese is melted, bubbly, and starting to get brown.