Blueberry Breakfast Cake with Lemon Glaze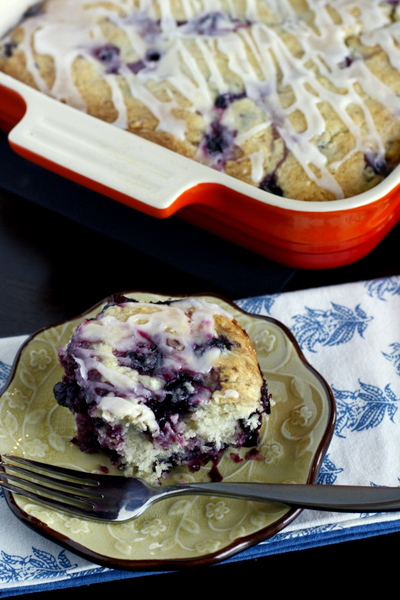 I'm going to go ahead and proclaim this blueberry breakfast cake with lemon glaze as the best blueberry recipe I've ever made.  High praise, but this cake deserves it! I made this about a month ago and have been patiently waiting until blueberry season to share it with you. The cake is incredibly tender and flavorful, and the lemon glaze on top is a delicious addition.  I've talked frequently in the past about Mike's love for blueberries, and he agrees with me that this cake is amazing.  I actually made this cake for my Sunday school class when it was my turn to bring snack, and everyone who tried some loved it. I think it's safe to say that this blueberry breakfast cake is a new favorite!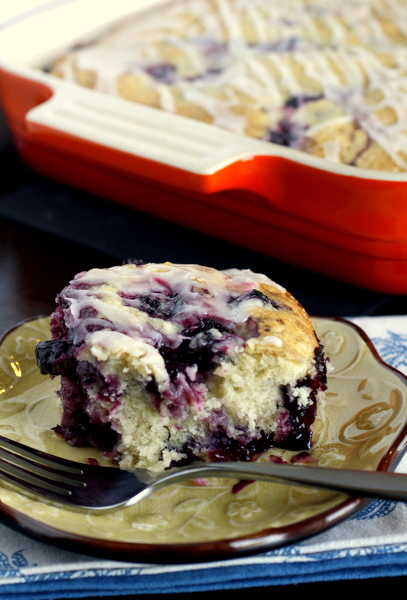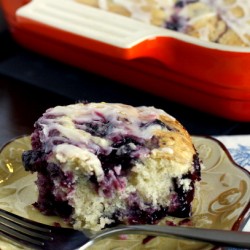 Ingredients:
1/2 cup unsalted butter, room temperature
2 tsp. lemon zest or more — zest from 1 large lemon
3/4 cup + 2 tablespoons sugar
1 egg, room temperature
1 tsp. vanilla
2 cups flour (set aside 1/4 cup of this to toss with the blueberries)
2 tsp. baking powder
1 tsp. salt
2 cups fresh blueberries
1/2 cup buttermilk
Powdered sugar and lemon juice for the lemon glaze on top
Directions:
Preheat the oven to 350ºF. In a small bowl, toss the blueberries in 1/4 cup of the flour and set aside.
In a large bowl, mix the sugar and lemon zest with your fingertips until fragrant. Add the butter and cream until light and fluffy. Add in the egg and vanilla and beat until combined.
In a separate bowl, whisk together the remaining flour, baking powder and salt. Add the flour mixture to the batter a little at a time, alternating with the buttermilk. Fold in the blueberries.
Grease a 9-inch square baking pan. Spread the batter into pan. Bake for 35 minutes, or until a toothpick inserted in the center comes out clean.
To make the lemon gaze, combine some powdered sugar with a little bit of lemon juice and drizzle over the still warm cake. (I just eyeballed the amount, but maybe start with 1/2 cup of powdered sugar and enough lemon juice to make the glaze the right consistency for drizzling.)