Apple Cinnamon Pancakes
These apple cinnamon pancakes are light and fluffy and chock full of apples and cinnamon!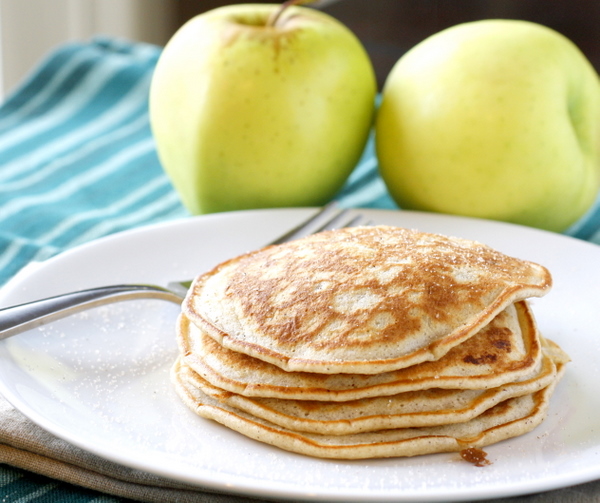 I love Fall. The cool mornings, the changing leaves, the feeling of a fresh start, and of course the return of fall baking.  I love baking with apples and pumpkin and finding new recipes that taste like Fall should taste.
These apple cinnamon pancakes fit that description perfectly. They're full of fresh diced apples, lots of cinnamon and just the right amount of sugar. They look like traditional pancakes from the outside, but when you bite into them you get the taste of fresh baked cinnamon apples. Yum. 🙂
I made these for breakfast on my day off last week and Mike and I both loved them!  As Mike was leaving for work he turned back to me and said: "Could you make me breakfast every day?" Ha, not likely, but at least I know these were a hit. 🙂
Note: looking for more pancakes? Try these recipes: pumpkin spice pancakes || oatmeal chocolate chip pancakes || gingerbread pancakes || classic buttermilk pancakes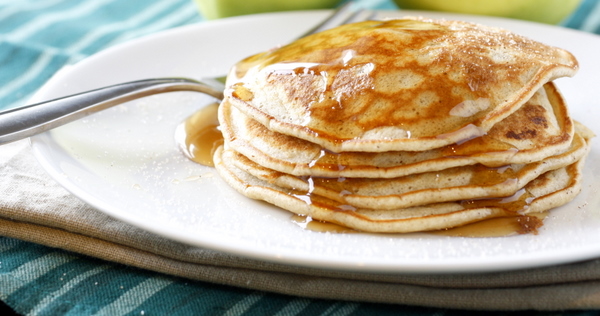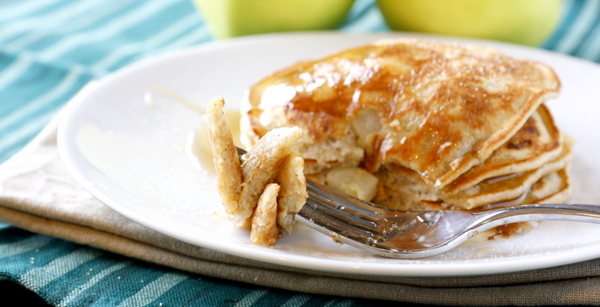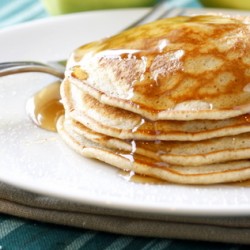 Apple Cinnamon Pancakes
Yield: Makes 14-18 small pancakes
Prep Time: 10 minutes
Cook Time: 10 minutes
Total Time: 20 minutes
These apple cinnamon pancakes are light and fluffy and chock full of apples and cinnamon!
Ingredients:
1 1/4 cup all purpose flour
2 Tablespoons brown sugar
2 teaspoons baking powder
1/4 teaspoon salt
1 teaspoon ground cinnamon
1 cup milk
1/2 cup applesauce
1 apple, peeled and chopped
1 egg
2 Tablespoons vegetable oil or melted butter
Directions:
Whisk together flour, salt, cinnamon, sugar and baking powder in a medium sized bowl. In a separate bowl, whisk together milk, egg, applesauce and vegetable oil or melted butter. Pour the wet ingredients into the dry ingredients and whisk until just combined. Stir in the chopped apples. Don't worry if it's still a little lumpy.
Let the batter sit for 10 minutes while you heat the skillet. Over low-medium heat melt a tablespoon of butter. Once the skillet is hot, add about 1/3 cup scoop of batter to the pan. Let cook until bubbles begin to form on the top surface and bottom is lightly browned. Carefully flip with a spatula and cook the second side until golden brown, a couple minutes more.