Nutella Swirl Ice Cream
Meet my new favorite ice cream. This nutella swirl ice cream is seriously amazing. It's sweet and creamy and full of wonderful nutella flavor. The base is a custard ice cream that is made with nutella, and is really good by itself. Even better, though, are the thick ribbons of nutella that are swirled through at the end. I seriously can't describe how good this ice cream is – you just have to try it! Mike and I both loved it, and everyone we shared it with loved it as well. I'm actually still surprised that we shared any of it, that's how good it is!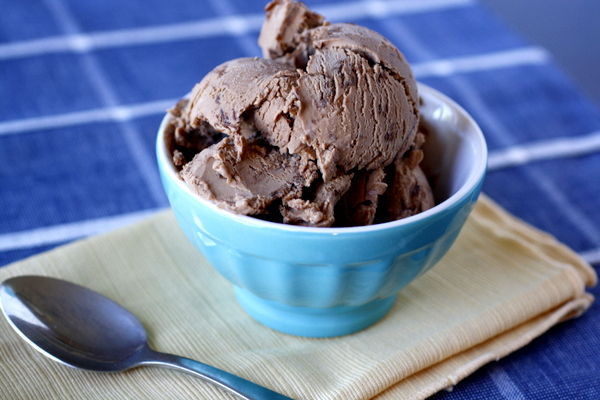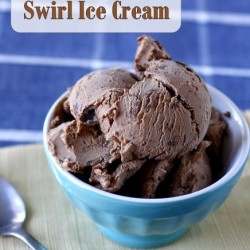 Ingredients:
6 egg yolks
1 cup milk
1 cup Nutella (for the custard base)
pinch of salt
2 cups heavy cream
1/2 cup Nutella (to swirl through at the end)
Directions:
In a medium sized bowl, whisk together the egg yolks, milk, 1 cup of Nutella, and salt. Set aside. Add a few cups of ice to a large bowl. Put a smaller bowl in the larger bowl. Place a fine strainer on top of the small bowl. Set aside.
In a medium sized saucepan, heat the cream until right before it comes to a boil. You will know it's done when it starts to bubble around the eges. Turn off heat and slowly whisk the hot cream into the Nutella/yolk mixture. Pour the mixture back into pot and stir constantly on medium heat until it thickens slightly. It's ready when you draw your finger along the back of a wooden spoon and your finger leaves a trail. Pour custard through a fine mesh strainer into the medium sized bowl. Place the bowl in a large bowl of ice water and stir occasionally until cool. Remove from ice bath and cover with plastic wrap. Refrigerate for several hours.
Freeze the ice cream according to your ice cream maker's directions. Transfer half of the ice cream to a container, then drizzle half of the Nutella (1/4 cup) over the surface. Swirl it through the ice cream, being sure to break up large clumps. Cover with the second half of ice cream, then swirl through the rest of the Nutella. Freeze for a few hours or overnight.