Fresh Peach Tart
Remember the homemade creme fraiche recipe I posted last week? Well, this fresh peach tart is the perfect place to use it! (Don't worry – you can substitute heavy whipping cream instead if you want to!) This is another recipe from my favorite French cookbook and it was a big hit with both me and Mike. I actually made this for Mike's birthday, so I'm glad he liked it. 🙂
To warn you, this fresh peach tart is not overly sweet. Mike said it really does remind him of a lot of the desserts he's had in France – very fresh and light, but without a ton of sugar.  The sweetness of the fresh fruit makes up for any lack of sugar, and I have to admit, it's nice to have a dessert that you don't feel guilty eating an extra serving of. 🙂 Plus, you can't beat the presentation – it's just so pretty!  I love desserts made with fresh fruit, and this peach tart is the perfect way to use up some of those late summer peaches.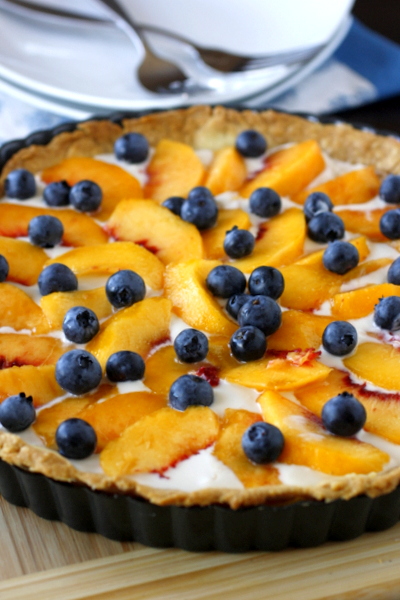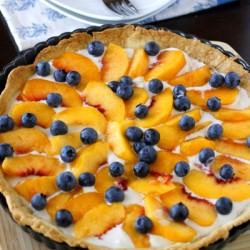 Fresh Peach Tart
Ingredients:
For the crust:
1 1/2 cups all-purpose flour
1/4 tsp salt
7 Tbsp unsalted butter, chilled and cut into 7 pieces
5-6 Tbsp ice water
For the topping
1 cup plain yogurt
3 Tbsp firmly packed light brown sugar
1/2 tsp vanilla extract
1/2 cup creme fraiche or heavy whipping cream
3 small ripe peaches, peeled, pitted, and thinly sliced
1/4 cup fresh berries
Directions:
Make the crust: Place the flour and salt in the food processor and process once to mix. Add the butter and process until the mixture resembled coarse meal, pulsing 5-8 times. Add 5 Tbsp ice water and pulse just until the pastry begins to hold together, 9-10 times. Add the remaining 1 Tbsp of water if the pastry seems dry.
Transfer to a floured counter-top and form into a flat round. Let rest, covered with a tea towel, for 30-60 minutes. Roll out the pastry until it is big enough to fit a 10 1/2-inch tart pan. Transfer the pastry to the pan, fitting it against the bottom and sides. Refrigerate 1 hour.
Preheat the oven to 425. Prick the tart shell all over with the tines of a fork and line with aluminum foil. Fill withe pie weights or dried beans, and bake until the edges begin to turn golden, 10-15 minutes. Remove the foil and weights and continue baking until the pastry is cooked through and golden, another 10-15 minutes. Let cool completely.
Making the filling: In a small bowl, whisk together the yogurt, brown sugar and vanilla. In another small bowl, whisk the creme fraiche (or heavy whipping cream) until it holds stiff peaks. Fold into the yogurt mixture. Spread into the pastry shell. Arrange the peach slices on top and sprinkle with the berries.
from the French Farmhouse Cookbook
*Amazon link is an affiliate link