Pumpkin Spice Puppy Chow
I know some of you may think it's too early for pumpkin flavored treats, but I couldn't help but share this pumpkin spice puppy chow with you! I made this last week on the spur of the moment after I saw pumpkin spice Hershey's kisses in a local grocery store. I love regular peanut butter puppy chow, but this pumpkin spice version just might be even better! As with all puppy chow, it's incredibly easy to make and also incredibly addicting to eat. I tried to give as much of this away as I could before we were tempted to eat it all, and let's just say that nobody complained. 🙂 Because it's made with both pumpkin spice kisses and pumpkin pie spice, the fall flavor really shines through, making this the perfect snack for this time of year.
*Note: If you're looking for pumpkin spice Hershey's kisses, I hear Target carries them. I personally found them at D&W Fresh Market. And of course, there's always Amazon. 🙂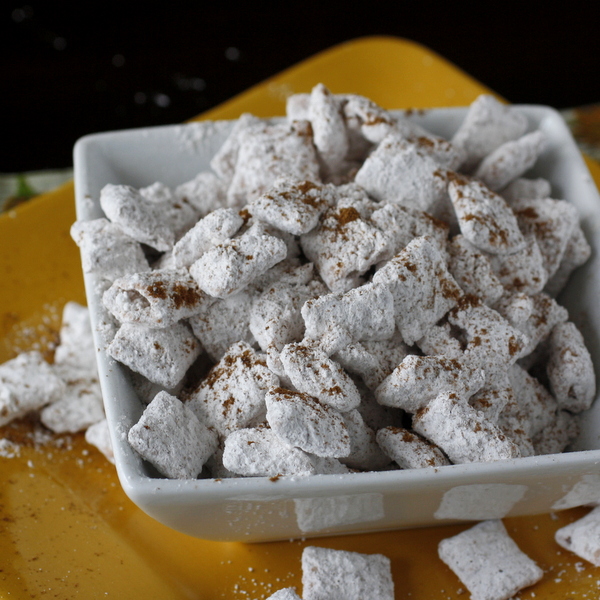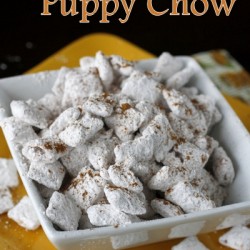 Pumpkin Spice Puppy Chow
Ingredients:
1 10-oz bag pumpkin spice Hershey's kisses
1 Tbsp shortening, optional
8 cups Chex cereal
1 1/2 cups powdered sugar
1 Tbsp pumpkin pie spice, plus more for sprinkling
Directions:
In a gallon size freezer bag, combine the powdered sugar and 1 Tbsp pumpkin pie spice. Set aside. Pour the chex into a large bowl.
In a double boiler, melt the pumpkin spice kisses until smooth. If the mixture seems too thick, you can add a little bit of shortening to thin it out a little.
Pour the melted kisses over the chex cereal and stir until evenly coated. Add the cereal to the bag with the powdered sugar and shake until fully incorporated. Sprinkle with a little extra pumpkin pie spice when serving.