Pumpkin Snickerdoodles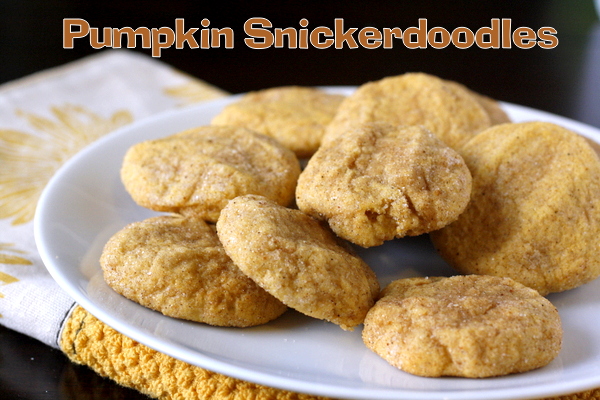 How fun are these cookies?? I love the idea of pumpkin snickerdoodles! Pumpkin and cinnamon is already a great pairing, so combining the two in cookie form seems just about perfect. These taste a little different than traditional snickerdoodles, and their texture is a little fluffier due to the pumpkin, but I love soft, chewy cookies so I thought they were wonderful. However, if you're looking for that classic snickerdoodle flavor, you're probably better off making a regular snickerdoodle recipe.  If you're just looking for a fun Fall pumpkin cookie though, this is the recipe for you.
The spices are on the mild side, but you can still clearly taste the cinnamon and nutmeg.  I loved eating these with pumpkin ice cream – talk about a perfect combination! Mike didn't get to try these because he was traveling when I made them, and I think he's a little sad that he missed out.  I may have to make a second batch just for him. 🙂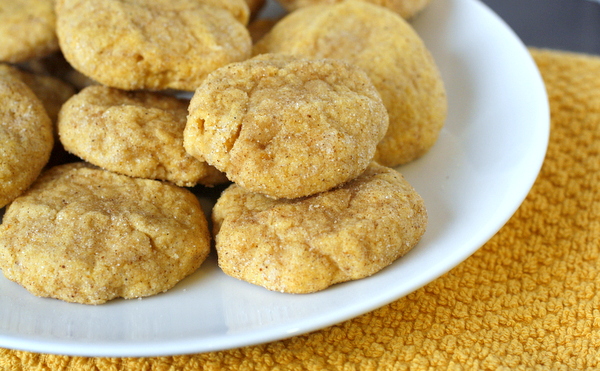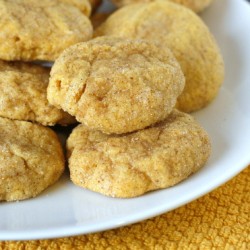 Pumpkin Snickerdoodles
Ingredients:
For the cookies:
3 3/4 cups all-purpose flour
1 1/2 tsp. baking powder
1/2 tsp. salt
1 tsp. ground cinnamon
1/2 tsp. ground nutmeg
1/4 tsp ground cloves
1 cup (2 sticks) unsalted butter, at room temperature
1 cup granulated sugar
1/2 cup light brown sugar
3/4 cup pumpkin puree
1 large egg
2 tsp. vanilla extract
For the coating:
1/2 cup granulated sugar
1 tsp. ground cinnamon
1/2 tsp. ground ginger
Dash of allspice
Directions:
In a medium bowl, whisk together the flour, baking powder, salt, cinnamon, and nutmeg. In the bowl of an electric mixer, beat together the butter and sugars on medium-high speed until light and fluffy, 2-3 minutes. Beat in the pumpkin puree, then the egg and vanilla until incorporated. With the mixer on low speed add in the dry ingredients and mix just until incorporated. Cover and chill the dough for at least 1 hour.
Preheat the oven to 350˚ F. Line baking sheets with silicone baking mats or parchment paper. Mix together the sugar and spices for the coating in a small bowl. Roll the dough into balls and coat in the sugar-spice mixture. Place on the prepared baking sheet, spacing the dough balls 2-3 inches apart. Dip the bottom of a flat, heavy-bottomed drinking glass in water, then in the sugar-spice mixture, and use the bottom to flatten the dough balls slightly.
Bake the cookies for 10-12 minutes, or until just set and baked through. Let cool on the baking sheets about 5 minutes, then transfer to a wire rack to cool completely. Repeat with the remaining dough. Store in an airtight container