Lemon Sugar Cookies
These lemon sugar cookies with lemon buttercream frosting are sure to brighten your day! I love sugar cookies in general (let's be honest, I love anything with frosting), and this lemon flavored variety is no exception. The cookies are soft and chewy and the frosting is thick and creamy – a perfect combination! The cookies themselves only have a slight lemon flavor, but the frosting more than makes up for it. If you're a fan of lemon flavored treats, you will love these cookies. They were a big hit with everyone I shared them with.

And in case you're wondering why I am sharing lemon flavored baked goods in the height of fall baking season, I am participating in a LEMON themed baby shower for a special blog friend! Liz from The Lemon Bowl is expecting her second baby soon, and a group of her blog friends got together to plan a little virtual shower. Liz lives in the same town as me, so we are lucky enough to get to hang out on occasion. Be sure to check out the list of participating bloggers at the bottom of this post and all their lemon flavored recipes!

And of course if you don't already read Liz's blog, be sure to check that out as well.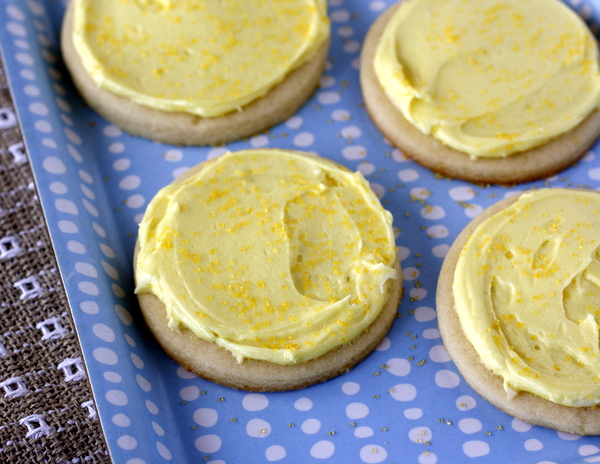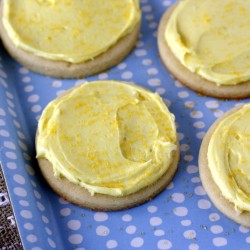 Lemon Sugar Cookies
Ingredients:
2 1/2 cups cake flour
2 tsp cornstarch
1 1/2 tsp baking powder
1/2 tsp salt
1/2 cup butter, at room temperature
1/4 cup shortening
1 cup granulated sugar
Zest of 1 large lemon
1 large egg
1 large egg white
1 tsp lemon extract
1 tsp vanilla extract
Lemon Frosting
1/3 cup salted butter, at room temperature
2 1/2 cups powdered sugar
1/2 tsp lemon extract
2 1/2 - 3 Tbsp fresh lemon juice
yellow food coloring or yellow sprinkles, optional
Directions:
In a medium sized bowl, whisk together the flour, cornstarch, baking powder and salt. In the bowl of an electric stand mixer, cream together butter, shortening, sugar and lemon zest on medium speed until very pale and fluffy, about 4 minutes, occasionally scrapping down the sides of the bowl. Beat in the egg, egg white, lemon extract and vanilla extract and mix until combined. With mixer running, slowly add in dry ingredients and mix just until combined. Cover and refrigerate for 2 hours.
Preheat oven to 375 during the last 10 minutes of refrigeration. Transfer dough to a floured surface and roll out to 1/4" thickeness. Cut with cookie cutters and transfer to a lined cookie sheet. Repeat process with remaining dough. Bake in preheated oven 9 - 11 minutes. Allow to cool 5 minutes on baking sheet before transferring to a wire rack to cool. Cool completely then frost with Lemon Frosting.
For the lemon frosting:
Combine all ingredients in a large mixing bowl, using an electric hand mixer, whip until frosting is smooth and fluffy.
Mix in food coloring if desired or sprinkle cookies with yellow sprinkles.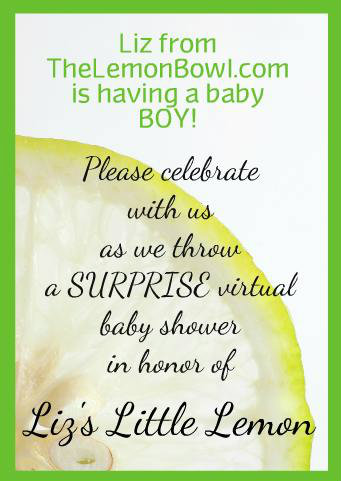 Appetizers
Beverages
Salads
Main Dish
Desserts