Cinnamon Roll Cookies
Cookies that taste like cinnamon rolls? This just might be the best cookie idea I've seen in a long time. I got the recipe from a fellow blogger, Picky Palate, and I'm so impressed that she came up with this! It's a basic sugar cookie dough, rolled up with butter, cinnamon and sugar, sliced and baked. Oh and topped with a delicious cinnamon frosting. That just pushes it over the edge.  I love the uniqueness of these cookies. And the fact that they're absolutely delicious (and addicting).
These were a huge hit with everyone who tried them. I sent some to work with Mike, I took some to my coworkers, and I saved some for some family who was visiting this past weekend (yes, this recipe makes a lot of cookies). I haven't heard a single negative review and I got asked countless times for the recipe. Mike has since declared that these need to be a staple in our house, and since he gave them a 4.5 rating, I have to agree.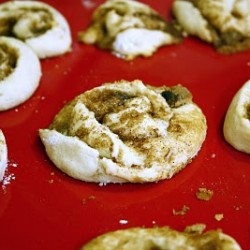 Cinnamon Roll Cookies
Ingredients:
Cookies:
2 Cups sugar
1 Cup butter, softened
3 eggs
1 teaspoon vanilla
1 Cup sour cream
6 Cups flour
2 teaspoons baking soda
2 teaspoons baking powder
1/4 teaspoon salt
softened butter
brown sugar
ground cinnamon
Frosting:
1 cup Powdered Sugar
½ teaspoons Cinnamon
2 teaspoons Corn Syrup
1 teaspoon Vanilla
Heavy Cream (Enough To Let Icing Reach Consistency Of Honey)
Directions:
1. In an electric or stand mixer, cream the sugar and butter. Add eggs, vanilla and sour cream until well combined. Slowly add in the flour, baking soda, baking powder and salt until well combined.
2. In 2 batches, place in plastic wrap in a disc shape and chill for at least 2 hours.
3. Once chilled, cut each disc into thirds and roll into a 1/8 inch thick oval, about 12 inches X 5 inches. Spread each rolled pieces of dough with 2 Tablespoons softened butter, 1/4 Cup packed brown sugar and 1/4 teaspoon cinnamon. Start rolling from the long end closest to you, rolling into a log shape. Using a sharp knife, cut 1/2 inch pieces of dough then place onto a parchment lined baking sheet. Bake at 350 degrees for 9-11 minutes. Remove and let cool for 5 minutes before removing from baking sheet.
4. To prepare frosting, mix the first 5 icing ingredients (powdered sugar, cinnamon, corn syrup, vanilla). Add heavy cream in small amounts at a time, stirring often, until icing reaches the consistency of honey. Drizzle frosting over cookies.